Engineered with Netafim's Sustainable ReGen™ Technology, PioneerLine Provides Hemp Growers the Ability to Deliver Uniform and Precise Applications of Water and Nutrients on Demand
Addressing the demand for a sustainable precision irrigation solution for hemp growing, Netafim USA, a subsidiary of Netafim Ltd. - the global leader of smart irrigation solutions, has unveiled PioneerLine™, the industry's first dripline specifically designed for use in hemp applications.

Made with Netafim's ReGen™ sustainable technology that utilizes material from recycled driplines, PioneerLine is available in both a pressure-compensating PioneerLine™ PC (15 MIL) and a non-pressure compensating PioneerLine™ X dripline (8 and 10 MIL). These driplines are specifically engineered to meet the needs of hemp growers. Key features and benefits of PioneerLine include:
Multiple flow options that enable growers to precisely match irrigation and fertigation to the plant's needs, thus increasing plant vigor, quality, and yield.
Every plant receives a consistent and the same amount of water and nutrients due to precisely produced injection molded drippers. Precision delivery of water and nutrients results in stand consistency and higher yields.
Tough seamless extrusion of the dripperline provides maximum protection against installation-related damages.
Low filtration requirement ensures the highest level of plugging resistance during the growing season.
"Whether you are growing for fiber, seed, or CBD oil, hemp has unique demands for nutrients and water. The precision control provided by drip irrigation is ideal for maintaining optimal growing conditions," said Chuck Bates, Market Segment Leader of Netafim USA. "We created PioneerLine due to hemp grower feedback indicating the need for an irrigation solution that provides precision control, reliability, and supply chain sustainability. As a pioneer of drip irrigation, we understand the challenges of pioneering a new crop."
The release of PioneerLine PC and PioneerLine X follows the recent announcement that Netafim Financial Solutions is now opening their industry leading financing program to hemp growers. This program is the industry's only end-to-end financing solution for complete drip irrigation systems (including design, materials, installation, and labor costs).
For more information on PioneerLine PC and PioneerLine X for hemp visit: netafimusa.com/pioneerline
ABOUT NETAFIM USA
Netafim USA, based in Fresno, CA, develops and manufactures drip irrigation systems for agriculture, landscape & turf, greenhouse & nursery, mining and wastewater. Netafim offers an extensive range of irrigation solutions including driplines, filters, sprinklers, valves, water meters and digital farming equipment for complete dripline system installations. For more information go to www.netafimusa.com.
Featured Product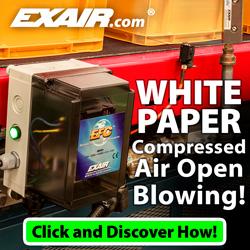 Compressed air is a limited resource that is generated in-house for the benefit of many operations within the manufacturing environment. Learn how to ensure all point of use applications are using your compressed air in the most effective and efficient way possible. Learn how much it costs to produce that compressed air and how Engineered Nozzles can help you use your air more effectively and efficiently.