Free Agri-TechE webinar 'De-risking agriculture through weather-tech' on 29th April 2020
Is it possible to predict extreme events? Increasingly yes. Chris Nankervis, CEO of Weather Logistics, says the company is confident it now has the best tools in place to reliably inform growers about the likelihood of a deluge. This is one of the approaches to mitigating risk to be discussed by four experts in a free Agri-TechE webinar on 29th April.

Dr Belinda Clarke, Director of Agri-TechE, comments: "The farming community is used to managing risk but extreme weather events appear to happening with greater frequency. We are asking a number of agri-tech entrepreneurs to explain how new AI-based tools can help mitigate the impact of weather and other 'acts of God'."
Chris Nankervis explains that large irregularities in the usual patterns of rainfall across the British Isles are largely a result of our Atlantic jet stream airflow, a high-altitude ribbon of fast-moving air that steers our weather systems. He says: "In recent years, this has resulted in a marked increase in the volatility of farming incomes."
Weather Logistics can detect disruptions in the jet stream throughout the year and uses this, and other data, to create bespoke weather forecasts. Farmers can use this information to improve decision-making such as delaying or bringing forward drilling or other farming operations to avoid adverse seasonal weather conditions.
Chris estimates that optimising crop scheduling for those in the horticultural industry could increase profit margins by up to 20% and ensure that delivery programmes are met with food retailers.
Offering location-level risk assessments is the aim of Cervest. The company is developing the ability to predict extreme events anywhere on the planet. By analysing climate and historical data, the company will be able to make predictions on an extreme event's specific impact to any natural and built asset (crops, forest, flood plains, utility infrastructure, buildings) on any parcel of land, globally.
The result, explains Mark Hodgson, Cervest's Chief Business Officer, is the development of meaningful ratings and metrics that can be used to help manage exposure to extreme precipitation and heat events, as well as other natural hazards such as flooding. Users are able to 'score' risk exposure and make objective, informed decisions on the assets they manage.
Mark says: "Customers need to understand whether the situation they see now is a trend: it's raining a lot now but is that normal for this time of the year or is it an anomaly? Is there a new weather trend that is going to last a generation? Are we in another cycle lasting 2-5 years? That's important to know as it has bearings on longer term planning and investment."
Joe Brooker, Senior Analyst at Stable Group Ltd, argues that, while weather predictions are useful, the risks farmers have to deal with are interconnected - and price and yield are the largest. "Price and yield risk are linked. Weather impacts production, which can impact yield; yield can impact price but this depends on scale, timing and other factors. These factors can also occur independently. Weather can be volatile, but not as volatile as price."
Stable Group Ltd has developed an insurance model that uses independent commodity indexes to protect against price volatility. Farmers are able to fix the price and the insurance will pay out if the price drops. The platform runs 62 trillion simulations per week to forecast prices and spot future pricing signals, balancing its risk portfolio across crop, geography, time and place.
More information about how to participate in this free webinar 'Keeping a Sunny Outlook - De-risking Agriculture Through Weather-Tech' on 29th April 2020 is available at agri-tech-e.co.uk/upcoming-events
Featured Product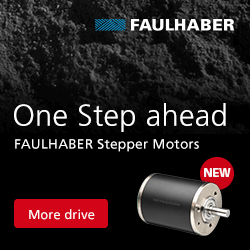 The FAULHABER stepper motor AM3248 raises the bar in terms of performance and dimensions. Offering up to 10,000 rpm, it achieves five times the speed of comparable stepper motors. Combined with a gearhead reduction of 100:1, it supplies a torque of 5 Nm. With a diameter of just 32 mm, it is suited for a wide range of applications in areas such as aerospace, laboratory automation, the semiconductor industry, robotics and 3D printing. Learn more!