Revolutionary Product Protects your Indoor Agriculture and Hydroponic Crops from Mold, Fungi and Other Harmful Environmental Conditions
GrowGeneration Corp. (NASDAQ:GRWG), the largest chain of specialty hydroponic and organic garden centers, currently with 27 locations, reported today that they are now an authorized distributor of 3M™ VentureClad™, 3M (NYSE:MMM).

3M™ VentureClad™ is an extremely durable, white vapor barrier tape that can be used as wall and tabletop coverings in both indoor and outdoor applications. The clear, protective outer coating has high chemical resistance and is very easy to clean.
Product Benefits:
Easy to clean
Aids in preventing mold and fungi growth
High chemical and fertilizer resistance
High UV resistance
Tough and long lasting
Easy and quick to install
Darren Lampert, Co-Founder and CEO, said, "Our partnership with 3M is a tremendous example of GrowGen's focus on identifying and introducing proven and disruptive products to our cultivation customers. 3M saw the value in our national supply chain to reach growers of all types and sizes. With our focus to be the largest hydroponic solution provider in the US, we are extremely proud to be an authorized 3M distributor and to bring GrowGen's full arsenal of sales and marketing to the 3M™ VentureClad™ portfolio."
Lynn Fisher, 3M Regional Building and Construction Manager said, "We are really excited to work with GrowGeneration to sell 3M™ VentureClad™ into the hydroponic and indoor agriculture market. After just one meeting, Darren and I could both see we had an opportunity to introduce an innovative technology into this market that would help growers protect their crops from mold, fungi and pests while saving labor cost at the same time due to its easy cleaning surface."
For more information about 3M™ VentureClad™ please email sales@growgeneration.com
About GrowGeneration Corp.:
GrowGen owns and operates specialty retail hydroponic and organic gardening stores. Currently, GrowGen has 27 stores, which include 5 locations in Colorado, 5 locations in California, 2 locations in Nevada, 1 location in Washington, 4 locations in Michigan, 1 location in Rhode Island, 4 locations in Oklahoma, 1 location in Oregon, 3 locations in Maine and 1 location in Florida. GrowGen also operates an online superstore for cultivators, located at https://growgen.pro/. GrowGen carries and sells thousands of products, including organic nutrients and soils, advanced lighting technology and state of the art hydroponic equipment to be used indoors and outdoors by commercial and home growers. Our mission is to own and operate GrowGeneration branded stores in all the major states in the U.S. and Canada. Management estimates that roughly 1,000 hydroponic stores are in operation in the U.S. By 2020 the market is estimated to reach over $23 billion with a compound annual growth.
Featured Product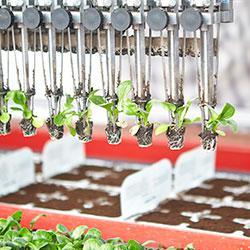 FAULHABER MICROMO launches the new MC3/MCS motion control family. The new high performance, intelligent controllers are optimized for use with FAULHABER motors, offer electronics for simple operation with state-of-the-art interfaces for multi-axis applications, and provide a motion control system solution with the most compact integration into industrial grade housing.