Texas company recognized for sales and service
Kansas City, MO - Fairbanks Scales Inc., the oldest scale company in the U.S. and the world's leader in weighing equipment, announces that Nicol Scales & Measurement (NSM), headquartered in Dallas, Texas, has been named one of Fairbanks' Top Five Authorized Domestic Distributors for 2019 for the sixth consecutive year. NSM has been a top ten distributor for the last 14 years and a Fairbanks Scales Authorized Distributor since 1989.

Founded in 1931, Nicol Scales & Measurement sells a variety of scale and weighing equipment, load cells, force measurement and material testing equipment. An ISO 17025 accredited company, NSM provides scale, metrology and calibration services. NSM has four locations in Texas: Dallas, Austin, Ft. Worth, & Houston.
To learn more about Nicol Scales & Measurement, please call 1- 800-225-8181or visit https://nicolscales.com/.
###
About Fairbanks Scales
Founded in 1830, Fairbanks Scales has become the leader in the industrial weighing market by creating and manufacturing an unrivaled range of weighing equipment solutions. From bench, parcel, counting, floor, and truck scales to animal, railroad track, and a full range of specialty scales, Fairbanks Scales has a reputation for being the most agile and attentive industrial weighing partner in the business. Headquartered in Kansas City, Mo., the company is also uniquely positioned to provide services for non-weighing products based on its nationwide contingent of technicians who can provide preventive maintenance and consistent, reliable service. To request more information or to find the Fairbanks representative or authorized distributor nearest you, please call (800) 451-4107, or visit www.fairbanks.com.
If it has to be right…It has to be Fairbanks!
Featured Product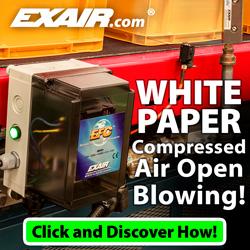 Compressed air is a limited resource that is generated in-house for the benefit of many operations within the manufacturing environment. Learn how to ensure all point of use applications are using your compressed air in the most effective and efficient way possible. Learn how much it costs to produce that compressed air and how Engineered Nozzles can help you use your air more effectively and efficiently.