The world's first and only LiDAR-based agricultural spray control system honored with third annual 'Davidson Prize' for ag innovations
The Smart-Apply® Intelligent Spray Control System™ by Smart Guided Systems has been selected for the Davidson Prize, a high honor for agricultural innovations that are projected to have a significant impact on agricultural production, efficiency, or safety. Smart-Apply was also recently awarded two significant agricultural innovation awards: The American Society of Agricultural and Biological Engineers' (ASABE) AE50 award and the Top-10 New Product at the World Ag Expo.

The Davidson Prize was designed to celebrate breakthrough innovations in areas of agricultural, food and biological systems engineering.
Steve Booher, the company's Founder & CEO stated "We are honored to have received these prestigious Ag Innovation awards, but more importantly is the positive impact the technology has on the environment, and up to 73% in chemical savings for permanent and specialty crop growers around the world."
The Smart-Apply® Intelligent Spray Control System™ uses LIDAR to scan each plant or tree as it passes, creating a density map of the spray target; then algorithms calculate the exact amount of chemical needed. As the sprayer passes, each spray nozzle becomes its own variable rate sprayer, applying just the right amount of chemical per spray nozzle.
"We're excited about the advancement of ag engineering and the positive impacts it continues to have on farmers' ability to work more efficiently," said Curt Blades, senior vice president of Agriculture for AEM. "These three products deliver on solutions that truly represent the spirit of J.B. Davidson and the innovative legacy of agriculture."
The Davidson Prize is named for J.B. Davidson, the father of modern agricultural engineering. It gives a nod to the storied past of agricultural engineering and pays homage to those engineers, like J.B. Davidson, who aspire to find a better way. Winners were selected from the AE50 honorees, announced at the Agricultural Equipment Technology Conference earlier this month in Louisville.
Indianapolis, IN based Smart Guided Systems, LLC is a world-wide leader in precision add-on kit sprayer systems for permanent and specialty crop growers. For more information on the Smart-Apply Intelligent Spray Control System, visit SmartApply.com
About the Association of Equipment Manufacturers - AEM is the Milwaukee-based international trade group representing the off-road equipment manufacturing industry, with more than 950 companies and more than 200 product lines in the agriculture and construction-related sectors worldwide.
About the American Society of Agricultural and Biological Engineers - ASABE is an international scientific and educational organization dedicated to the advancement of engineering applicable to agricultural, food, and biological systems.
Featured Product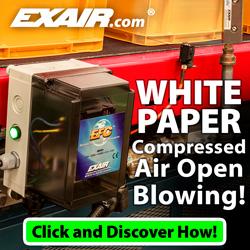 Compressed air is a limited resource that is generated in-house for the benefit of many operations within the manufacturing environment. Learn how to ensure all point of use applications are using your compressed air in the most effective and efficient way possible. Learn how much it costs to produce that compressed air and how Engineered Nozzles can help you use your air more effectively and efficiently.