Advanced technology company Nevasoft designed and implemented a hand-held precision agriculture system that could be taken out into the field by farmers and used to troubleshoot and problem solve issues -- the captured data and recommendations could be transferred and used to help agronomists, plant pathologists and chemists track the emergence of pests and resistance.These types of applications could potentially have far-reaching and widespread influence on relevant and urgent global challenges such as climate variation and food security concerns
NEVASOFT PRESS RELEASE
CONTACT: George Ellis, Senior Vice President of Business Development
George@lns-nevasoft.com
FOR IMMEDIATE RELEASE
ADVANCED TECHNOLOGY COMPANY NEVASOFT
HARNESSES PRECISION AGRICULTURE
TO AID DEVELOPING COUNTRIES
CALPINE, CA (March 10, 2020) - Working on cryptic and complex technological problems in undefined environments is a specialty of California-based Nevasoft. So when an international seed and crop protection firm approached Nevasoft to "build us one of those things," they were ready to rise to the challenge.
The team at Nevasoft, which includes a group of exceptionally skilled engineers and developers who cut their technology teeth in Silicon Valley, has gained a reputation for tackling extraordinary problems and creating versatile solutions in areas such as food, water, shelter, energy and finance. Nevasoft prefers to stay within the realm of projects that "affects the human condition."
For this particular issue, which had an ultimate goal of global agricultural use that included developing or under-developed areas, Nevasoft designed and implemented a hand-held system that could be taken out into the field by farmers and used to trouble-shoot, problem-solve and better maximize their return on investment. Knowledge engineering and artificial intelligence were primary in formulating the main components of the system - with captured data and recommendations able to be transferred and used to help agronomists, plant pathologists and chemists track the emergence of pests and resistance.
The project was particularly challenging because engineers, designers and specialists were working within such parameters as little infrastructure, illiteracy, and outdated and unsupported mobile devices.
"This was an incredibly interesting project in terms of the constraints that had to be applied, and the final result ended up being quite surprising," said Nevasoft Chief Technology Officer Christian Kennedy, who spearheaded the artificial intelligence component of the project. "These types of applications could potentially have far-reaching and widespread influence on relevant and urgent global challenges such as climate variation and food security concerns."
The agricultural project took just over two years to complete, and Nevasoft left the client with the infrastructure and example models for a functional system with a target size of two million users. Nevasoft hopes that other users in the agricultural space may eventually also carry it forward. The development of this project was enhanced by knowledge Nevasoft has applied in other spheres - and conversely, knowledge the company gained in the agricultural realm will transfer to future issues and ideas, as well.
"Every problem that we tackle has overlap with other projects - and translates into later solutions. For example, much of what we brought to this situation was informed by management of utility systems, formal methods, security and even financial trading systems," said Kennedy. "We are experts at becoming expert enough to be really dangerous in any given realm. And we thrive on providing creative guidance for complex issues that may not have a clear answer right away - and often the less obvious answers turn out to be optimal ones."
As technical problem solvers with a diverse set of capabilities, the Nevasoft team relishes approaching problems that others are not sure how to tackle. For more information about the company or to present them with an interesting problem, visit nevasoft.com or call (415) 326-7700.
Artwork:
1. Logo of Advanced Technology Company Nevasoft
About Nevasoft
Nevasoft is a California-based advanced technology company that undertakes interesting problems that deal with the human condition - more specifically, in the areas of food, water, shelter, energy and finance. The company specializes in all types of hardware and operating systems design, data fusion and artificial intelligence, and its principle experts have deep backgrounds and decades of experience across a range of engineering and technologies.
Sample projects include designing systems to reallocate and rebalance asset management portfolios, creating technology for trading of non-exotic fixed income instruments, developing analytics to automate water utility systems, and harnessing precision agriculture to maximize farmer ROI.
For more information, visit nevasoft.com.
###
Featured Product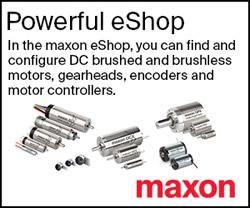 Discover the world of drive technology from a leading worldwide supplier of innovative customized drives. - Manufacturer of brushed and brushless DC motors, gearheads and motion controllers - Custom drive systems, quantities as low as a single unit - Certified for aerospace and medical applications