New BOLT platform enables equipment manufacturers to automate machines for outdoor jobs.
Left Hand Robotics, pioneer and manufacturer of the world's first self-driving smart robot for commercial turf and snow, recently launched BOLT, a technology platform that transforms outdoor machinery and power equipment into smarter, more efficient, ready-to-work robots.

AUTOMATING MACHINES FOR UNMANNED JOBS
BOLT brings autonomous navigation, connected sensors, and real-time robot operations to outdoor power equipment and machines doing repetitive jobs across the globe. Building on Left Hand Robotics' field-proven experience with its own robot tractors, BOLT allows OEMs to launch faster, reduce R&D costs, and tap into a unified platform with navigation, sensors, controls, software and apps.
"Our team has learned a lot, building, testing, proving how autonomous tractors can work on tedious, dirty jobs in the real world. These are tough problems to solve and we have already invested more than 80 engineering years into the technology behind BOLT," said Terry Olkin, CEO for Left Hand Robotics. "We'll continue to build our own robots while offering BOLT to a limited number of OEMs in the first year."
BOLT focuses on several key areas to help with machine automation, including:
Autonomous Navigation and Telemetry
Smart Sensors & Cameras
Connected Power Equipment & Controls
Cloud-Based Robot Operations Center & Apps
Job Planning, Reporting & Analysis
Since each OEM is likely to have different requirements or product needs, BOLT partners will go through multiple deployment phases, including evaluation, development, and deployment.
PARTNERING WITH OEMs
Left Hand Robotics soft-launched BOLT earlier this year and interest has been high from manufacturers needing more automation capabilities. Left Hand Robotics is already collaborating with top power equipment and machine manufacturers to incorporate BOLT features into their future product lines.
LEARN MORE
To see a full list of BOLT capabilities and to learn how to become an OEM partner, go to http://www.lefthandrobotics.com/bolt.
Featured Product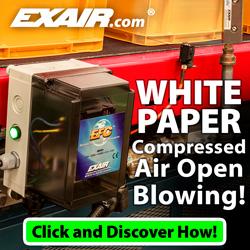 Compressed air is a limited resource that is generated in-house for the benefit of many operations within the manufacturing environment. Learn how to ensure all point of use applications are using your compressed air in the most effective and efficient way possible. Learn how much it costs to produce that compressed air and how Engineered Nozzles can help you use your air more effectively and efficiently.