The National Association of State Departments of Agriculture (NASDA) has teamed up with Ionization Labs as an industry partner to strengthen NASDA's understanding of the issues and trends facing agriculture on both national and international levels.
Ionization Labs, the developers of Cann-ID® , the industry accredited, award-winning cloud-based cannabinoid potency testing solution for Hemp, has joined the National Association of State Departments of Agriculture (NASDA) as an industry partner. Ionization labs joined this esteemed group during the historical roll-out of a state-led national hemp program established by Congress in the Agriculture Improvement Act of 2018 (Farm Bill).

"We are honored to become a NASDA Partner. State departments of agriculture are the boots on the ground, building the framework and markets that can deliver on hemp's promised economic prosperity for growers," said D. Cree Crawford, Co-Founder and President/COO, Ionization Labs.
When it comes to partner engagement, NASDA is committed to building lasting relationships within the food and agriculture industries and systems. Their partners' program not only increases an organization's visibility but provides networking opportunities for companies interested in advancing agriculture and food policies at the national level.
NASDA Members have a broad range of regulatory and promotional responsibilities. This program provides organizations with insight on emerging legislative and regulatory issues from state and federal levels. As a NASDA Partner, this program will provide Cann-ID a matchless setting to engage on shared priorities and also strengthen NASDA's understanding of the issues and trends facing agriculture on both national and international levels.
Hemp testing policy and procedures sit at the very center of the hemp industry ecosystem potency testing. Hemp potency related to the chemicals found in the plant called cannabinoids is what determines if the plant is legal hemp or illicit marijuana. Current rules set a threshold of a maximum of .3% THC levels to be considered legal hemp. Anything over this is legally considered to be federally illegal marijuana. Potency data is also very important to determine the value of a farmers crop or an extractor product.
Ionization Labs decided to focus all our time and energy developing Cann-ID as a "solutions-based" organization that would have a positive and profound impact on the industry as a whole. When one begins to recognize that not only compliance data (what determines legal or illegal crop) but must also be considered is the power applied potency data that they will acquire through Cann-ID to provide an operations best practice tool that contributes to a farmer's bottom line.
Cann-ID offers farmers the ability to perform "precision agricultural practices". Cann-ID's total testing solution can acquire potency chemical data in a "per-acre" grid that is aligned by GPS coordinates. The farmer can now track fertigation against hemp crop yields, allowing them to dial in variables and maximize target yields eg. CBD, CBG, and other valuable cannabinoids. Cann-ID will also launch and offer the 2020 crop season a cultural / weather / environmental data tracking to a micro-climate as low as 500 meters and a "data-call" frequency as high as every 5 minutes, for a whole growing season. The real-time and historical data, combined with the final chemical profile test of the hemp, will offer tremendous insights that can be applied to a powerful cultivation strategy. This can also offer crop researchers and seed developers data to accelerate the development of specialty genetics.
As a company, Ionization Labs is committed to "putting people first" and creating an ongoing optimized data aggregation tools platform that will provide a valuable service to the farming and agriculture community as well as support their success!
###
Mission Statement: Ionization Lab: The award winning Cann-ID system by Ionization Labs is the only commercially available accredited* cloud-based lab-grade potency profile testing platform for hemp. It quantifies the top 14 cannabinoids, including all THC and CBD analytes. Results for a full 14 cannabinoid screen in approx. 15 minutes to a ONE (1) part per million level of detection (LOD) Quick "Hot or Not" THC screen in 10 minutes) Ionization Labs' , Cann-ID meets surpasses USDA technical requirements and surpasses the California potency testing LOD requirements for cannabinoid potency. Ionization strives for continual optimization in the focus on potency test screening for compliance, commerce, academic, research & development Cann-ID has patent pending IP to optimize and streamline testing processes. All methods developed using ISO standards. The cloud-based system provides data redundancy & stakeholder sharing, trackability, along with forgery and fraud mitigation. The system provides standardization across the total solution; hardware, software and consumables and has low machine to machine variance.
Mission Statement: The National Association of State Departments of Agriculture was founded in 1916. NASDA is a nonpartisan, nonprofit association which represents the elected and appointed commissioners, secretaries, and directors of the departments of agriculture in all fifty states and four U.S. territories. NASDA grows and enhances agriculture by forging partnerships and creating consensus to achieve sound policy outcomes between state departments of agriculture, the federal government, and stakeholders. NASDA is governed by a 10 member Board of Directors consisting of a five member Executive Committee; one At-Large member; and the presidents of the four NASDA regions. Executive Committee members are the officers of the association and serve a five-year term. (Each region has at least one member serving on the Executive Committee.)The regional presidents serve a one year term. The At-Large member is selected by the Executive Committee.
Featured Product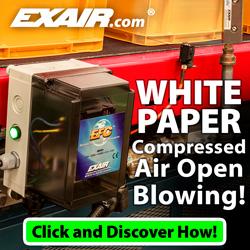 Compressed air is a limited resource that is generated in-house for the benefit of many operations within the manufacturing environment. Learn how to ensure all point of use applications are using your compressed air in the most effective and efficient way possible. Learn how much it costs to produce that compressed air and how Engineered Nozzles can help you use your air more effectively and efficiently.