Five AgTech startups pitch their latest ideas to help producers manage their operation more effectively
GroGuru has been named as one of five finalists at the Ag Tech Innovation Competition at the Nebraska Power Farming Show on Wednesday December 11, 2019 at 2:00pm at Lancaster Event Center/Pavilion 2 East in Lincoln, NE.

"GroGuru is thrilled to be included as a finalist in this farmer focused Ag Tech Innovation Competition," said Patrick Henry, president and CEO at GroGuru. "GroGuru helps farmers implement strategic irrigation management by deploying soil sensors that measure soil moisture, temperature and salinity at various root depths of crops to make AI-based recommendations to farmers about when and how much to irrigate their crops."
Five AgTech startups will pitch their latest ideas to help producers manage their operation more effectively. The pitch competition is sponsored by Farm Credit Services of America. Each AgTech startup has five minutes to pitch its solution for helping farmers and ranchers more effectively manage their farming operations. The competition, emceed by Chad Moyer (KTIC Radio farm director), will culminate with one company earning the $5,000 People's Choice award and the winning company receiving a $20,000 grand prize.
###
GroGuru is a privately held company based in San Diego, CA that provides precision soil and irrigation monitoring systems to the commercial agriculture industry. GroGuru is focused on enabling farmers to increase crop yields while optimally use water, energy and other scarce resources in a sustainable way. GroGuru sells an innovative hardware-enabled subscription-based solution to farmers that enables optimal irrigation. GroGuru's 100 percent wireless underground system (WUGS) enables a permanent installation of soil sensors, even in annual field crops like corn, soybeans, wheat, cotton and sorghum, that have a destructive harvest. GroGuru's WUGS-based systems can be buried below the till depth and communicate through several feet of soil wirelessly, thus eliminating the need for the sensors to be annually installed and removed for seeding and harvesting, respectively, for these annual crops. GroGuru is a portfolio company at the EvoNexus technology incubator, the premier technology incubator in Southern California.
Featured Product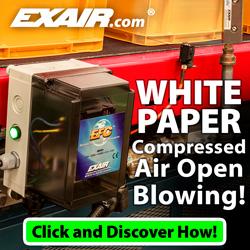 Compressed air is a limited resource that is generated in-house for the benefit of many operations within the manufacturing environment. Learn how to ensure all point of use applications are using your compressed air in the most effective and efficient way possible. Learn how much it costs to produce that compressed air and how Engineered Nozzles can help you use your air more effectively and efficiently.