Vegetable recall for possible listeria in U.S. and Canada highlights critical need for better food traceability from cultivation across the supply chain
Artemis, the leading enterprise Cultivation Management Platform (CMP), today called for improved foodborne illness prevention and urges increased adoption of compliance technology in the wake of the November 3 voluntary recall announcement for a series of vegetable products sold to select retailers in the United States and Canada due to potential contamination with Listeria monocytogenes. Artemis, which provides a platform for commercial specialty crop operations to manage risk and compliance, is advocating for more awareness and improved traceability during cultivation and across the supply chain.

The potential Listeria outbreak is the latest of many foodborne illness outbreaks linked to fresh vegetables and fruits that are grown in the U.S. or imported and distributed to consumers. In 2011, Congress enacted The Food Safety Modernization Act (FSMA) to transform the country's food safety system. In 2018, a multistate outbreak of E. coli linked to romaine lettuce that infected 210 people and killed 5 brought massive public attention related to the ongoing issue of foodborne illness and consumer safety.
"We commend Mann Packing Co. and others that take a proactive stance with voluntary recalls that put consumer safety first," said Allison Kopf, CEO of Artemis. "All recalls are bad, but they're also fixable and can be addressed much earlier in the supply chain. While unfortunately the industry can't always prevent the microbes from winning, risk to consumers can be drastically reduced with better traceability during the earliest stages of cultivation."
"There's an emerging greenfield opportunity to leverage data and new technology to create a more efficient, traceable and compliant horticulture industry where risk is reduced, common best practices are put into place to better educate consumers—and in the event of a produce-based illness outbreak, regulators and growers can move quickly to isolate and control the issue," added Kopf.
According to data from the Centers for Disease Control and Prevention, about 48 million people in the U.S. (1 in 6) get sick, 128,000 are hospitalized, and 3,000 die each year from foodborne diseases. More Americans fall ill from common pathogens like E. coli, Campylobacter, salmonella, and listeria by consuming fresh fruits and vegetables than from chicken, beef, seafood, dairy or eggs. Many of the largest food-borne illness outbreaks in the U.S. have been spread through specialty crops—produce like spinach, lettuce, tomatoes, and strawberries.
Artemis has always worked with growers to manage risk and compliance related to traceability during cultivation. Artemis is a trusted partner to some of the world's largest farming companies and has attracted a wide range of users that are foremost interested in the security, compliance, profitability, and potential to expand their operations. The company has also partnered with others in the agtech ecosystem, enabling users to further reduce risk across all areas of their business.
For further information and to learn more about working with Artemis, visit https://grow.artemisag.com/grow-with-artemis.html. Useful resources to monitor foodborne illness outbreaks include The U.S. Food and Drug Administration and the Centers for Disease Control and Prevention.
About Artemis
Founded in 2015, Artemis provides a world-class Cultivation Management Platform that enables owners and managers of enterprise horticulture facilities to drive efficiency, profits, and growth while ensuring security and regulatory compliance. With Artemis, users can manage workflow and daily tasks, register crop batches, trace food safety issues, manage workers, and leverage data insights to increase workforce efficiency and crop productivity. The platform integrates easily with other software for climate control, shipping/logistics, accounting, ERP/MRP, CRM, and Point of Sale Commerce. The company is headquartered in Brooklyn, NY. For more information visit http://www.artemisag.com.
Featured Product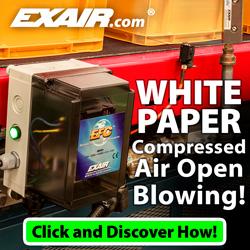 Compressed air is a limited resource that is generated in-house for the benefit of many operations within the manufacturing environment. Learn how to ensure all point of use applications are using your compressed air in the most effective and efficient way possible. Learn how much it costs to produce that compressed air and how Engineered Nozzles can help you use your air more effectively and efficiently.