Builds on Bold Strategy to Deliver Autonomous Solutions for Agriculture
Raven Industries, Inc. (the Company; NASDAQ:RAVN) announced today that it has acquired Smart Ag Inc., a technology company that develops autonomous farming solutions for agriculture. This acquisition is part of Raven Autonomy™, the Company's strategic growth platform to become the industry leader in autonomous agriculture solutions, announced earlier this week. Complementing the Company's Applied Technology division, a leading technology provider in the precision agriculture industry, this acquisition will be integrated into the division's business and technology portfolio with the intent to create autonomous solutions for the precision ag market.

"The acquisition of Smart Ag is part of a bold, company-wide strategy for Raven," commented Dan Rykhus, Raven Industries President and CEO. "It is a key investment in Raven Autonomy™, one of our two strategic growth platforms. Autonomy in agriculture is the future of farming, and this acquisition, coupled with our existing precision agriculture solutions, solidifies our position as a technology leader within this market."
As part of Raven Autonomy™, the Company plans to deliver autonomous solutions for agriculture that will enable both its OEM partners and ag retailers to be successful. Now more than ever, OEMs need to deliver premier precision ag solutions in order to compete. Raven Autonomy™ will deliver on this great challenge; its technology will enable large-scale ag retailers to augment their operations, allocate resources smartly and reduce labor dependency. Along with the Company's recent agreement to acquire majority ownership in DOT Technology Corp., the acquisition of Smart Ag brings perception and path planning capabilities to the Company's leading technologies in precision ag operations.
Smart Ag, headquartered in Ames, Ia., was founded in 2015 to solve the growing labor crisis in production agriculture. Today, Smart Ag is offering aftermarket retrofit kits to automate farm equipment as well as a platform to connect, manage and safely operate autonomous agricultural machinery. Smart Ag's technology stack is easy to use and modular for scalability. In addition to its proven, proprietary technology, Smart Ag brings an established dealer network and a skilled development team to Raven.
"Raven's experience in machine and application control is a perfect complement to the autonomous machine control developed by Smart Ag," said Brian Meyer, Division Vice President of Raven Applied Technology. "Together, the expertise of both companies will allow for more operations to be performed in-field — with a significant increase in both performance and outputs. By automating existing machine platforms and implements, driverless machines have great potential to complement the work of manned machine operations in the field."
About Raven Industries, Inc.
Raven Industries (NASDAQ: RAVN) is dedicated to providing innovative, high-value products and solutions that solve great challenges throughout the world. Raven is a leader in precision agriculture, high-performance specialty films, and lighter-than-air technologies. Since 1956, Raven has designed, produced, and delivered exceptional solutions, earning the company a reputation for innovation, product quality, high performance, and unmatched service. For more information, visit http://ravenind.com.
About Raven Applied Technology
Raven Applied Technology is helping feed a growing population by delivering impactful technology that improves agricultural efficiency for custom applicators and growers around the world. From field computers to sprayer and planter controls, GPS guidance steering systems, wireless and logistics technology, Raven provides precision agriculture products and solutions designed to reduce operating costs and improve yields. Learn more at http://ravenprecision.com.
About Smart Ag Inc.
Smart Ag was founded with the vision of becoming the autonomous farming platform of choice in a driverless future. Over the last three years, the company has released systems across the country, enabling completely driverless operation of machinery to improve harvest labor efficiency. With the combination of extensive on-farm testing, industry leading talent and innovative design, Smart Ag has developed a cutting-edge automation platform which incorporates machine learning, advanced vehicle navigation, and robust wireless communication technology. Learn more at http://www.smart-ag.com.
Featured Product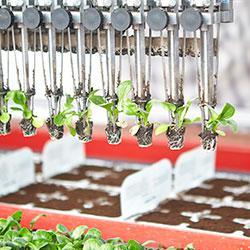 "Smart farming" is an important part of the answer to this existential question: Extremely high efficiency in food production through the targeted use of the latest technology, computer-supported and - where possible - fully automatic. Seeds are individually and precisely placed; fruits carefully picked by mechanical grippers; fertilizers and plant protection products applied in small doses and in a targeted manner. These operations require a large number of small electric motors that are both robust and powerful.