Builds on Strategic Growth Platform to Deliver Autonomous Solutions for Agriculture
Raven Industries, Inc. (the Company; NASDAQ:RAVN) announced today that it has entered into an agreement to acquire majority ownership of DOT Technology Corp. (DOT™), a leader in autonomous agriculture solutions. The investment will align under the Company's Applied Technology division in support of its recently announced strategic growth platform, Raven Autonomy™.

DOT™ is the designer and manufacturer of a unique U-shaped diesel-powered platform designed to autonomously handle a large variety of agriculture implements. Through its accurate path planning technology, the platform is able to complete tasks autonomously. In turn, agriculture professionals can make better use of their time and overall operations.
The two companies began working together in May 2018, when the Company announced the Dot Platform would be outfitted with Raven technology, including steering, guidance and propulsion.
"Over the last year and a half of collaborating with DOT, Raven has come to understand the value and uniqueness of the Dot Platform," said Dan Rykhus, President and Chief Executive Officer of Raven Industries. "We are furthering our investment in and ownership of this unique, disruptive technology. By investing in DOT's growth, we believe we have the ability to lead in the next revolution of production agriculture."
Through this majority ownership, Raven will leverage the respective strengths of each entity to drive commercialization and adoption efforts of autonomy in agriculture. Raven is the market leader in steering, guidance and machine control technology, while Dot brings field path planning, user control experience, machine safety and remote communication software to this unique relationship. Together, the companies will accelerate the development of precision agriculture technology from semi-autonomous to fully-autonomous solutions.
"Our majority ownership investment in DOT is clear evidence of our commitment to deliver revolutionary autonomous technology to the market," said Brian Meyer, Division Vice President of Raven Applied Technology. "By bringing together DOT's unique platform with our machine control technology, industry knowledge and OEM partnerships, Raven will be the market leader in autonomous precision agriculture advancements."
"As a company, we launched the Dot Platform to change farming. Raven has been a critical partner in helping to get Dot to where we are today," said Norbert Beaujot, Owner and Founder of DOT Technology Corp and SeedMaster Manufacturing Ltd. "Our combined technologies will undoubtedly help accelerate speed to market and adoption of machine automation."
Raven is dedicated to solving great challenges, including autonomy for agriculture. Raven Autonomy™ will change the ag technology landscape, helping ag professionals be safer, more efficient and ultimately run their operation with less reliance on human variabilities. Utilizing its market-leading solutions suite and strong commercial and technical relationships, Raven will pave the way in autonomous farming and transform futuristic ideas into concrete realities.
The transaction is expected to close in November 2019.
About Raven Industries, Inc.
Raven Industries (NASDAQ: RAVN) is dedicated to providing innovative, high-value products and solutions that solve great challenges throughout the world. Raven is a leader in precision agriculture, high-performance specialty films, and lighter-than-air technologies. Since 1956, Raven has designed, produced, and delivered exceptional solutions, earning the company a reputation for innovation, product quality, high performance, and unmatched service. For more information, visit http://ravenind.com.
About Raven Applied Technology
Raven Applied Technology is helping feed a growing population by delivering impactful technology that improves agricultural efficiency for custom applicators and growers around the world. From field computers to sprayer and planter controls, GPS guidance steering systems, wireless and logistics technology, Raven provides precision agriculture products and solutions designed to reduce operating costs and improve yields. Learn more at http://ravenprecision.com.
About DOT Technology Corp.
DOT is a patented autonomous diesel-powered platform that is U-shaped and ready to accept any implement that has been adapted to be Dot ready. Following Dot's 2017 launch, they have experienced a surge of interest from progressive farmers around the globe. DOT Technology Corp. is a corporation incorporated under the federal laws of Canada and is headquartered in Regina, Saskatchewan, Canada. For more information, visit http://seedotrun.com.
Featured Product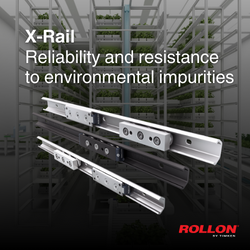 Rollon's X-Rail linear rails are a reliable solution in environments susceptible to impurities. Equipped with rolling elements with shaped and flat raceways, they are available in several versions: galvanized, nitrided or stainless-steel sheet metal. The latter version ensures total corrosion resistance, which is critical for hostile environments such as those found in vertical farming. Particularly innovative is the T + U configuration of the X-Rail linear rails, which can compensate for the parallelism errors of mounting surfaces. This simplifies installation and reduces costs.