The Farm Credit Knowledge Center will host the first of two free Precision Agriculture Technology Workshops at Virginia Tech's Kentland Farm on November 6, 2019 from 9 AM to 1 PM.
The 2019 Precision Agriculture Technology Workshop is a free offering from the Farm Credit Knowledge Center in which participants will learn about precision agriculture tools used to enhance beef and dairy management as well as industry best practice relating to these technologies.

Participants will have the opportunity to visit Virginia Tech's agricultural research center, Kentland Farm. In addition to touring and learning about the university's state-of-the-art dairy facility, attendees will hear an overview of current research out of the College of Agricultural and Life Science, attend a presentation on cattle feed efficiency, and receive a demonstration on agricultural drone use. On farm transportation and lunch will be provided.
Marie Rothwell, Knowledge Center Program Specialist, shared, "We are excited to provide this opportunity to the agricultural community in Southwest Virginia. Technology continues to make a larger and larger impact on producer's success in today's agricultural landscape. We hope participants will leave the event with insight they can take home to their own operations."
Registration can be made via Eventbrite, by contacting Marie Rothwell at (540) 463-5255 ext. 5415 or by email at MRothwell@FCVirginias.com.
The second workshop will be held at Reymann Memorial Farm in Wardensville, WV, on November 12, 2019 from 9:30 AM to 1:30 PM EST. For more information on the Wardensville event, please visit the Farm Credit Knowledge Center website: https://farmcreditknowledgecenter.com/.
Featured Product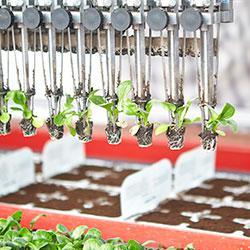 "Smart farming" is an important part of the answer to this existential question: Extremely high efficiency in food production through the targeted use of the latest technology, computer-supported and - where possible - fully automatic. Seeds are individually and precisely placed; fruits carefully picked by mechanical grippers; fertilizers and plant protection products applied in small doses and in a targeted manner. These operations require a large number of small electric motors that are both robust and powerful.