The Summit aims to connect organisations across the food supply chain, bringing together innovators and established multinational companies to inspire the very best new thinking and accelerate innovation across the global food industry.
The UK's first high-level gathering of international food experts, academics, government representatives, technology experts and entrepreneurs will examine how the world can sustainably feed 10 billion people by 2050.

More than 100 international speakers including broadcaster and author Dr Alice Roberts, Henry Dimbleby, restaurateur and UK National Food Strategy lead, businesswoman Heather Mills, alternative meat pioneer Dr Neta Lavon, and philosopher A.C Grayling will take to the stage at the inaugural Food Matters Summit at ExCeL London on 19 and 20 November to debate the critical issues facing the food industry today and in the future.
The Summit aims to connect organisations across the food supply chain, bringing together innovators and established multinational companies to inspire the very best new thinking and accelerate innovation across the global food industry.
"We need to come together, through events like the Food Matters Summit," says Henry Dimbleby, "to explore new ideas and share our understanding of what is working well, at home or abroad, that we can learn from."
"No part of our economy matters more than food. It is vital for life, and for pleasure. It shapes our sense of family, community and nation.
"Our free market performs a million daily miracles, producing, exporting, importing, processing and serving up a dazzling variety of reasonably-priced foods in an abundance unimaginable to previous generations. But this bounty has come at a cost. Intensive farming practises have caused serious damage to the environment and the food related disease is costing the NHS billions and drastically harming the lives of millions. Food security, too, is a growing concern: population growth, climate change, the global increase in meat eating are intensifying resource competition between nations."
New thinking
Over two days, the ambitious and wide-ranging Summit programme will focus on three crucial themes, which will shape the future food industry.
• 'The Food Revolution' will examine how the food industry can respond to philosophical as well as commercial needs as it strives to feed a growing global population.
• 'Feeding our future' looks at the consequences of an unprecedented level of food options, a shift in consumer demands towards healthy and sustainable foods, and a new generation of millennial buyers.
• 'Tomorrow's Innovation' investigates how customer tastes and trends have changed the food industry. How innovations and tech can be utilised for both consumer and commercial benefit? And if robotics, A.I., nanotechnology, alternative proteins, nutraceuticals and more is the answer to a global food crisis.
Pete Pearson, senior director for food loss and waste for the World Wildlife Fund US, will join Ben Elliot (Food Surplus & Waste Champion, Department for Environment, Food & Rural Affairs) and Michael la Cour (head of food services, Ikea) to debate how good practice and new technology could help eliminate food waste at all stages of the food system.
Mr Pearson said: "What the Food Matters Summit highlights is the importance of figuring out a sustainable food system. We cannot carry on wasting food with a global population of seven or eight billion if we want to have a planet in balance with nature.
"If we lose the pollinators, clean water and healthy soil, we will not be able to feed ourselves, so addressing waste is critical. We have to find a balance with nature while still feeding humans."
Australian author and 'Food Futurist' Tony Hunter will be joining Professor Tim Lang, Professor of Food Policy, City University, London, to look at new thinking and game-changing technology which could revolutionise the way we grow food.
Mr Hunter said: "Getting people to believe that there is a genuine crisis is the greatest challenge to overcoming the global food crisis.
"We've lived in an era of seemingly endless supplies of resources, but that's coming to an end. Planetary resources are finite, population is sky rocketing and we need to find new ways of utilising and recycling those resources."
FoodTech500
Underlining the Summit's focus on innovation, Forward Fooding have chosen to announce the world's first FoodTech 500 List at Food Matters Summit.
Forward Fooding founder Alessio D'Antino said "The FoodTech 500 provides an exciting new opportunity for top innovators and disrupters to showcase their work and elevate the profile of the entire FoodTech industry. We're excited to uncover the top FoodTech startups and scale-ups globally, those who are transforming food as we know it and bring them the recognition that their pioneering work deserves."
The international speaker also line-up includes:
• Dr Pasi Vainikka, CEO and Co-Founder, Solar Foods (Finland)
• Dr Bente Mikkelsen, Director of Division of Noncommunicable Diseases, World Health Organisation (Switzerland)
• Kate Cole, Global Head of Nutrition, Health and Wellness, Nestle (Switzerland)
• Claire Smith, CEO and vegan investor, Beyond Impact (Switzerland)
• Dr Neta Lavon, Vice President R&D, Aleph Farms (Israel)
• Patrick Holden, Chief Executive, Sustainable Food Trust (UK)
Briony Mansell-Lewis, Director of Food Matters, said: "Food Matters Summit will provide a forum for new ideas and big thinking and is relevant for anyone with an eye on the long-term future of the food industry.
"The Summit offers delegates an opportunity to learn from industry leaders and disruptors, be inspired by futurologists and world-renowned academics and forge powerful cross-sector industry connections that will influence the future of the global food and drink industry."
The event is co-sponsored by KSM-66 Ashwagandha and G.E. Digital is the technology sponsor of the Tomorrow's Innovation stream. Deborah Sherry, SVP and Chief Commercial Officer, GE Digital Europe, said: "Fast-paced changes in consumer tastes, regulatory requirements and the sheer velocity of new digital solutions is driving food industry professionals to ask - "what's next - and how do we get there?"
The inaugural Food Matters Summit will be a focal point for the food industry to connect, engage and take the next steps to deliver the future of food."
Featured Product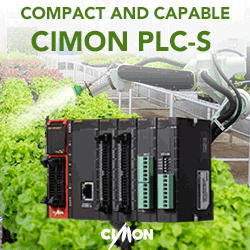 CIMON-PLC is an industrial control device based on international standards of IEC61131. It is designed for a plant site that requires industry-leading reliability. CIMON-PLC is optimized for Industry 4.0 and enhances the intelligence of industrial sites.