Agriculture Technology Corporation - AG-LAB-1000™
Astrotech Corporation (NASDAQ: ASTC) has created a new subsidiary company, Agriculture Technology Corporation (AG-TECH), in response to a growing number of inquiries from the agriculture industry requiring detection of trace levels of harmful pesticides in agricultural products. The mass-spec technology that is currently owned by the Astrotech subsidiary, Astrotech Technology Inc. (ATI), is ideally suited for these applications and the "Agriculture" field of use has now been licensed to the Agriculture Technology Corporation (AG-TECH), a wholly owned subsidiary of Astrotech Corporation.

With the recent passing of the U.S. Farm Bill, (H.R. 2, 115th) and the increasing number of U.S. states and countries that are legalizing hemp and cannabis, pesticide regulations have become increasingly important worldwide. AG-TECH has been working with industry farmers, manufacturers, and laboratories in the development of its AG-LAB-1000™ series of mass spectrometers that are being designed for agriculture applications in the field that detect trace levels (ppb) of pesticides or that require the quantification of cannabinoids and terpenes as low as parts per trillion (ppt).
"The Astrotech mass-spec technology has numerous applications in many diverse industries, and we have now found an immediate need in the agriculture markets that have highly regulated pesticide requirements," stated Thomas B. Pickens III, Chairman and Chief Executive Officer of Astrotech Corporation. "Our new AG-LAB-1000™ series of GC/MS/MS mass-specs are ideally suited for those applications that need rugged but highly sensitive field instruments that are easy to operate. We are very excited about our pesticide detection series of products that will soon be providing large savings for farmers and manufacturers worldwide."
AG-TECH has also launched a new website for its new line of products at www.aglab.com.
About Astrotech Corporation
Astrotech (NASDAQ: ASTC) is a science and technology development and commercialization company that launches, manages, and builds scalable companies based on innovative technology that are designed to maximize shareholder value. Astrotech headquarters are in Austin, Texas. For information, please visit www.astrotechcorp.com.
Agriculture Technology Corporation designs, manufactures, and sells mass spectrometers for agriculture applications including the detection of trace levels of harmful pesticides. AG-TECH is headquartered in Austin, Texas. For more information, please visit www.aglab.com.
Featured Product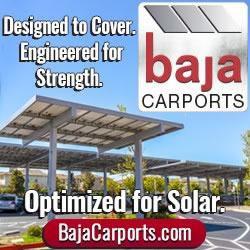 Baja Carports offers an extensive solar support system product line customized to customers' site specifications by in-house engineers, meeting their parking lot coverage, plus optimal PV production needs. Baja's Full Cantilever Tee is often paired with its Semi and Full Cantilever carports to meet live/loads up to 60psf and wind speeds to 160mph. All Baja products are pre-fabricated, bolted connections, pre-galvanized structural steel for fast on-site installation and project aesthetic requirements.