Leader in consumer and commercial automated growing solutions continues momentous 2019 as it works to meet consumer demand
Seedo Corp. - 'Seedo' (OTC-QB: SEDO) - an agritech company providing fully automated and controlled indoor growing solutions for the 'at-home agriculture' markets as well as commercial scale systems, has successfully qualified for the ISO 9001:2015 certification.

This quality management system certification from ISO (the International Organization for Standardization) demonstrates that Seedo is consistently providing products and services that meet customer and regulatory requirements by continuously enhancing customer satisfaction.
"As the demand for automated growing technology continues to increase, we are emphasizing our commitment to our customers," said Zohar Levy, CEO of Seedo. "Customer satisfaction is very important to us, and we are proud to say that our products meet international quality and regulatory requirements, which further strengthens our innovative product for the global Seedo community."
Seedo is ramping up retail distribution efforts in the U.S. and Europe, and recently announced a partnership with leading retail innovation firm OutForm, Inc. to develop a strategic retail branding strategy and optimize Seedo's U.S. distribution channels and supply chain. OutForm - which works with global retail leaders across industries, including Motorola, Dell, Under Armour, Reebok, and more - is set to introduce Seedo to retailers and consumers across the country.
About Seedo
Seedo is a market leading high-tech company providing the hemp and agriculture industries with fully automated and controlled indoor growing solutions for home-grow and commercial hemp, herbs and vegetables.
Seedo provides growers with the freedom to cut costs while generating high yields of lab-grade, pesticide-free herbs and vegetables. AI-powered, turnkey systems enable anyone from average consumers to large-scale producers the ability to grow without prior experience or ample space. The Seedo solution minimizes cultivation costs by delivering maximum daylight illumination, built-in carbon filters, automated air conditioning, and a smart post-harvest drying system to users. Even in the harshest environments or with limited space, cultivators can use Seedo's intelligent technology to harvest the next generation of precision agriculture. Seedo is a publicly traded company backed by a group of international investors including Cannabics Pharmaceuticals and is headquartered in Israel. For more information, visit http://www.seedo.com, the content of which is not part of this press release.
Featured Product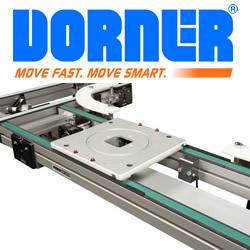 Dorner's 2200 Series Precision Move Pallet Systems are ideal for assembly automation. With features such as an innovative timing belt conveyor design and industry best pallet transfers, they get your product to the exact location, at the exact time and in the exact position it needs to be. They are now available with new options such as heavy load corner modules with 150 lb. capacity and 180 degree tight transfer corners for compact loops.