GroGuru has created blog and video content covering key aspects of strategic irrigation management
GroGuru is focused on helping farmers implement strategic irrigation management, and its new website includes key content in blog posts and videos to help farmers understand the importance of value of using soil sensors, cloud-based systems. and easy to use mobile applications to manage irrigation on their farms. The new GroGuru website can be found at https://www.groguru.com/.

"GroGuru is very fortunate to have some key thought leaders and experts on our management team in soil sensor technologies, wireless systems, machine learning, and irrigation agronomy," said Patrick Henry, president and CEO at GroGuru. "We've developed videos and blog articles that provide key information for famers about the benefits of applying digital technologies to improve irrigation management practices."
Included in the new and improved website are:
An easier to navigate web theme
Improved products page with more details about the benefits of GroGuru's innovative solutions for strategic irrigation management
Updated GroGuru deployment information which now includes over 1,200 sensors across over 20 crop types and more than 60 customers
A new video page that gives information about strategic irrigation management, irrigation agronomy, soil sensor technology, and how to use the GroGuru solutions
An easier to navigate blog articles page that gives additional details about key aspects of crop science and product usage
All the latest news about GroGuru
The GroGuru solutions help farmers increase crop yield, while at the same time preserve water and other scarce resources in a sustainable way. As a result, farmers can be more efficient and make more money.
###
GroGuru is a privately held company based in San Diego, CA that provides precision soil and irrigation monitoring systems to the commercial agriculture industry. GroGuru is focused on enabling farmers to increase crop yields while optimally use water, energy and other scarce resources in a sustainable way. GroGuru sells an innovative hardware-enabled subscription-based solution to farmers that enables optimal irrigation. GroGuru's 100 percent wireless underground system (WUGS) enables a permanent installation of soil sensors, even in annual field crops like corn, soybeans, wheat, cotton and sorghum, that have a destructive harvest. GroGuru's WUGS-based systems can be buried below the till depth and communicate through several feet of soil wirelessly, thus eliminating the need for the sensors to be annually installed and removed for seeding and harvesting, respectively, for these annual crops. GroGuru is a portfolio company at the EvoNexus technology incubator, the premier technology incubator in Southern California.
Featured Product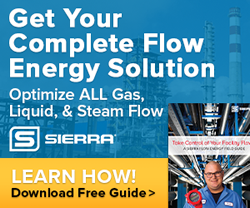 Download Flow Energy Guide - Written by Engineers For Engineers. Learn how to save on energy costs by optimizing your facility flows that impact costs like compressed air, natural gas, steam, and hot or chilled water.