Award-Winning Luxury Ranch Destination Offers Guests the Opportunity to Immerse Themselves in Distilling, Brewing and a Variety of Culinary Arts
Brush Creek Ranch, the award-winning luxury ranch collection that includes The Lodge & Spa at Brush Creek Ranch, Magee Homestead and French Creek Sportsmen's Club, is thrilled to announce the opening of The Farm at Brush Creek, an expansive new amenity providing fully immersive food, beverage and event experiences steeped in a seed-to-table philosophy. Serving as an integral component of the collection, The Farm at Brush Creek includes Cheyenne Club; Brush Creek Distillery; Brush Creek Brewery; Brush Creek Greenhouse; Brush Creek Cellar; The Spirits Vault; Medicine Bow Creamery; The Bakery and the Saddle Barn event facility.

The Farm at Brush Creek's amenities are available exclusively to guests staying at Brush Creek Ranch and can be experienced through tours or private experiences. Guests can work alongside experts to deepen their knowledge and skills in the areas of distilling, brewing, farming, wine tasting, and a variety of culinary arts such as butchering, cooking, cheesemaking and more.
"In 2010, Brush Creek Ranch opened its gates with a commitment to be a highly refined, globally recognized destination that champions outdoor recreation, shared experience, personal renewal, environmental sustainability and preservation of the Western way of life," said Bruce White, Owner of Brush Creek Ranch. "The Farm deepens this commitment, providing our guests with fully-immersive epicurean experiences that are unmatched."
The seed-to-table experiences at The Farm are the natural evolution of the Ranch itself, which has been a working cattle ranch for more than a century. In 2017, Brush Creek Ranch began raising its own 100 percent American Wagyu cattle, which is the only beef served at the Ranch. That same year, Brush Creek Ranch opened an approximately 7,000 square foot greenhouse that uses hydroponics to reduce water usage and grow produce for the Ranch. As part of The Farm, the Brush Creek Greenhouse has been expanded to 20,000 square feet and will produce 100,000 pounds of fruit, vegetables and herbs, supplying the entire Ranch collection - including The Farm - with organic produce.
An Unmatched Epicurean Experience
Cheyenne Club
Helmed by Executive Chef Angus McIntosh, Cheyenne Club puts the freshest Brush Creek Ranch-sourced cuisine on full display with a true seed-to-table dining experience. The chef-driven, seasonal a la carte and tasting menus feature dishes using Ranch-raised Wagyu beef and produce from the on-site greenhouse as well as more than 2,400 wines from around the globe. In addition, Chef Angus will lead immersive experiences such as pasta making, butchery and grilling.
In its state-of-the-art facility, Brush Creek Brewery brews and bottles craft beers flavored and brewed with regionally sourced ingredients. Guests can sample the brews, named after iconic Western landmarks and majestic wildlife surrounding Brush Creek Ranch, and join educational sessions with the brewers.
Brush Creek Distillery offers a selection of small batch rye, gin, moonshine and whiskey as well as tastings and tours that provide an inside look at the distilling process. The spirits are all named for the real-life heroes and villains who left their mark on Wyoming's history. The still can produce up to 20 barrels per month, which equates to 100,000 bottles every 30 days.
Beneath The Farm lies Brush Creek Cellar, a 94-yard tunnel capable of housing nearly 100,000 bottles of the most exclusive wines available. This one-of-a-kind climate-controlled cellar is designed to ensure the perfect environment for incredibly rare vintage wines. Guided tours of the cellar are available during the restaurant's dinner service. A sommelier is also available to escort guests to the Cellar and assist in selecting the perfect bottle to pair with individual meals and preferences. Experiences include wine tastings and seminars such as single varietal immersion, create your own cuvée and tasting techniques.
The Spirit Vault houses a selection of more than 100 extremely rare, small batch bourbon, whiskeys, spirits and much more. Selections of the most exceptional spirits will be kept behind lock and key in cabinets along the walls. The Spirit Vault will host special tasting events throughout the year and will be available for private events.
The Farm's own herd of Alpine goats provides milk for Medicine Bow Creamery's own cheeses, yogurt, butter and ice cream. For those seeking a more hands-on experience, educational opportunities exist to participate in crafting these incredible flavors.
The Bakery will prepare fresh bread, pastries, chocolates and more daily for The Farm and, eventually, the entire Ranch collection.
In addition to touring the extensive Brush Creek Greenhouse, guests can be a farmer for a day, tending the crops, as well as learning the basics of planting, germinating, cultivating and harvesting.
Brush Creek Ranch has long been a coveted destination for weddings and events and The Farm's Saddle Barn offers another spectacular venue. Surrounded by the picturesque Wyoming countryside, Saddle Barn was built with reclaimed wood to authentically resemble one of the many timeless barns dotting the Western landscape. With nearly 4,000 square feet accommodating up to 250 guests mixed with views of Medicine Bow, Bennett and Kennaday Peaks, the new events barn offers truly unique corporate meetings, destination weddings and milestone events.
In addition to the numerous immersive experiences at The Farm, general overview tours are offered in the morning and afternoon and a daily open house where guests can explore on their own. Finally, The Farm will host special events throughout the year with several already planned for 2019, including a one-day Celebration of Krug Champagne on August 9 and a winemaker weekend with Ghost Horse Vineyards August 16 to 19.
"Brush Creek Ranch has long been known for the depth and quality of our ranch-raised Wagyu beef, the wine and spirits program and our overall sustainability," said Mike Williams, Executive Vice President and COO of Brush Creek Ranch. "The Farm not only supports the food and beverage operations of our collection of ranches, but will be a destination for culinary travelers that cannot be replicated anywhere else... the perfect combination of an authentic Western working ranch, luxury accommodations, world class food and beverage and a variety of experiences that bring people together and enhance relationships."
About Brush Creek Ranch
Brush Creek Ranch is a grand Western destination offering an ultra-private collection of historic guest ranches set on a 30,000-acre working cattle ranch outside of Saratoga in south central Wyoming's North Platte River Valley and includes The Lodge & Spa at Brush Creek Ranch, Magee Homestead and French Creek Sportsmen's Club, each of which appeals uniquely to family vacations, adult romantic and wellness escapes, destination weddings and private corporate events. Offering an unsurpassed, all-inclusive luxury dude ranch adventure experience, Brush Creek Ranch provides a genuine Western spirit of hospitality and a vast array of outdoor activities that, coupled with an inspiring landscape and a dedication to sustainable ranching, come together to create a new icon in International luxury resort destinations. For more information about Brush Creek Ranch or to inquire about rates call (307) 327-5284, email guestservices@brushcreekranch.com or visit www.brushcreekranch.com. Brush Creek Ranch is managed by White Lodging.
About White Lodging
White Lodging Services Corporation, established in 1985, is one of the leading ownership, development, and management companies in America. An innovative trendsetter, the organization's portfolio includes convention, urban lifestyle, and suburban select service hotels with more than $1 billion in managed revenue. White Lodging operates more than 90 premium hotels, 30 restaurants and 30 brands in 20 states. Success knows no boundaries at White Lodging, where associates and leadership have consistently earned superior guest satisfaction scores, top market share and industry-leading profit margins while recruiting the best, brightest, and most passionate professionals in every discipline for three decades. White Lodging is a proud winner of the Gallup Great Workplace Award. For more information about White Lodging, visit www.whitelodging.com, or connect on Facebook, Twitter, LinkedIn and Instagram.
Featured Product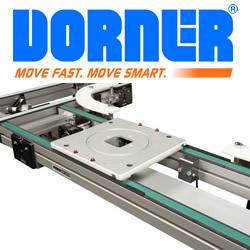 Dorner's 2200 Series Precision Move Pallet Systems are ideal for assembly automation. With features such as an innovative timing belt conveyor design and industry best pallet transfers, they get your product to the exact location, at the exact time and in the exact position it needs to be. They are now available with new options such as heavy load corner modules with 150 lb. capacity and 180 degree tight transfer corners for compact loops.