An advisory group with over fifteen years' and $7 billion in transaction experience launched an Ag based Advisory division.
MCG, an advisory group with over fifteen years' and $7 billion in transaction experience in the AG market launched a dedicated AG based Advisory division "Agri Capital." The company is focused and specifically dedicated to agribusiness advisory services for family owned and middle market AG businesses.

Hal Berger, Managing Partner states, "We started working with AG family grower businesses such as Fruit Patch, Sun Pacific ["Cuties brand"] and other growers in the central valley in 2004. Our firm realized that these family AG organizations are often over looked by large Wall Street financial advisory firms. Family run AG businesses are sophisticated organization which have the same financial needs as large multinational companies when it comes to advisory services. We decided to focus exclusively on serving the needs of our AG community companies.
Agri Capital plans to have their Fresno office operational by the end of 2019 and other offices in the southeast and central USA.
Hal Berger, Managing Partner states, "We are excited about Agri Capital, we believe the food and agriculture sectors offer great opportunities to partner with AG families and companies. Our research indicates the projected growth for the AG sector in the next decade will provide numerous compelling financial opportunities for AG companies along the entire food supply chain - from grower production to distribution to consumer consumption. More important we really enjoy working and partnering with AG family owned and middle market agribusinesses."
Agri Capital services include:
Acquisitions
Family Business sales
Divestitures
Exit Strategies
Valuations
About Agri Capital: ACC is an advisory and strategic consulting firm founded to provide individuals and middle-market companies' customized advisory services by senior professionals. Our affiliate firm has successfully advised and completed over $7 billion in transactions. Our firm has a broad range of experience in dealing with family owned businesses (FOB), private equity firms, privately-owned and public companies. Our firm has been extremely successful in the agribusiness and food & beverage sectors. More information about Agri Capital can be found at http://www.agricapitalco.com
Featured Product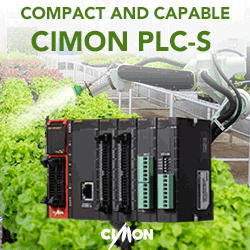 CIMON-PLC is an industrial control device based on international standards of IEC61131. It is designed for a plant site that requires industry-leading reliability. CIMON-PLC is optimized for Industry 4.0 and enhances the intelligence of industrial sites.