LED Grow Lighting Manufacturer to Present Best Practices for Maximizing Profitability for Controlled Environment Agriculture
Thrive Agritech, Inc., a technology company focused on leading innovations in LED lighting for horticulture, today announced the company will be speaking at the upcoming MJBizCon Next Conference.

MJBizCon Next will be held June 12-14 at the Ernest N. Morial Convention Center in New Orleans. Jay Marshall, member of Thrive Agritech's Strategic Partnership Team, will be presenting the advantages of LED lighting for indoor farming. Jay will be one of three speakers at a session titled, "Grow Low, Yield High: Innovative Grow Strategies." The session will cover innovative growing techniques and strategies including: the use of technology to reduce cost, LED lighting for increasing yield, and genetic breeding as a competitive advantage.
Thrive Agritech was founded at the Y Combinator accelerator in Silicon Valley, with a mission to enhance sustainability for controlled environment agriculture. The company's industry leading energy efficient lighting products have already made significant reductions in the carbon footprint from older lighting technologies. All Thrive Agritech products have an optimized horticulture light spectrum, high reliability, and most importantly improve efficiency and longevity of horticultural crop growth.
About Thrive Agritech
Thrive Agritech is a leading developer and manufacturer of innovative products for the controlled environment agriculture industry. The company's patent-pending technologies enable unique advantages for horticultural solid-state lighting and controls. Corporate headquarters are located in New York City. For more information, visit http://www.thriveagritech.com
Featured Product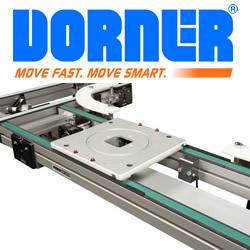 Dorner's 2200 Series Precision Move Pallet Systems feature the latest advancements in pallet traffic management. A unique pin tracking system guides pallets through merges and curves while maintaining product orientation. The fast belt change capability increases efficiency and reduces downtime in assembly automation processes. They are available in lengths up to 25 ft., can handle loads up to 500 lbs. and travel at speeds up to 114 ft/min.