Eight bold and unique startups from a range of technology sectors pitch for the vote of the attendees
GroGuru has been selected as one of eight startup companies to present at the upcoming EvoNexus Demo Day on June 5, 2019 at the Qualcomm Headquarters in San Diego. Join EvoNexus for appetizers, drinks, and a showcase of Southern California innovation, as eight bold and unique startups from a range of technology sectors pitch for the vote of the attendees.

"GroGuru currently resides at the EvoNexus incubator program in La Jolla, San Diego, and we are very excited to participate in this event where we get to highlight the GroGuru vision and strategy," said Patrick Henry, president and CEO of GroGuru. "The EvoNexus team has been a huge support for GroGuru, and we are grateful to be included with seven other exciting early stage companies at this exciting event. The GroGuru's game-changing technology holds the promise to revolutionize the agriculture industry by allowing farmers to increase crop yield, while at the same time more efficiently using water and other precious resources."
"The Internet of Things (IoT) is a massive deployment of technology products with a global impact. Agriculture technology, or AgTech, will be a direct beneficiary of IoT," said Rory Moore, Co-Founder and CEO of EvoNexus. "GroGuru is a prototypical IoT AgTech company. The GroGuru team of business leadership, engineers, agronomy experts and sales are deploying their breakthrough Wireless Underground Sensor System (WUGS) in over a dozen US locations and in a variety of crops. The company has the potential to revolutionize the way growers manage crop irrigation, measure soil chemistry and increase yield. Soil sensor technology and services is multi-billion-dollar market opportunity."
There were over 350 attendees at last year's EvoNexus Demo Day event.
To learn more about this event or to register to attend, please go to https://evonexus.org/events/upcoming-events-at-evo-2/.
About GroGuru:
GroGuru is a privately held company based in San Diego, CA that provides precision soil and irrigation monitoring systems to the commercial agriculture industry. GroGuru is focused on enabling farmers to increase crop yields while optimally use water and fertilizer. GroGuru sells an innovative hardware-enabled subscription-based solution to farmers that enables optimal irrigation. GroGuru's 100 percent wireless underground technology enables a permanent installation of soil sensors, even in annual field crops like corn, soybeans, wheat, cotton and sorghum, that have a destructive harvest. GroGuru's WUGS-based systems can be buried below the till depth and communicate through several feet of soil wirelessly, thus eliminating the need for the sensors to be annually installed and removed for seeding and harvesting, respectively, for these annual crops. GroGuru is a portfolio company at the EvoNexus technology incubator, the premier technology incubator in Southern California.
About EvoNexus
EvoNexus is Southern California's leading startup incubator with locations in San Diego and Irvine. They enable motivated entrepreneurs to turn their transformative technologies into fundable, commercially-viable companies. Since 2010, $1.7B in funding and acquisition outcomes have been achieved by EvoNexus startups. A total of 26 EvoNexus startups have been acquired since 2013. EvoNexus is supported by strategic corporate sponsors in technology, life science and leading sector service providers. EvoNexus companies enjoy incubation of up to two years in Class A offices and dry lab spaces to create complex products, secure investor funding and launch their inventions into important markets. For more information, please visit evonexus.org.
Featured Product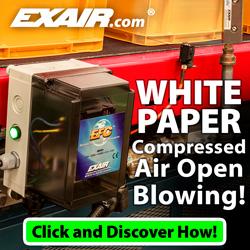 A low cost, reliable way to cool and purge electronic control panels. EXAIR Cabinet Coolers incorporate a vortex tube to produce cold air from compressed air - with no moving parts. NEMA 12, 4, and 4X Cabinet Coolers that match the NEMA rating of the enclosure are available in many cooling capacities for large and small control panels. Cabinet Coolers convert an ordinary supply of compressed air into clean, cold 20ÂşF air. Learn more about Cabinet Coolers in EXAIR's white paper "How EXAIR Cabinet Coolers Can End Costly Shutdowns". www.exair.com/184/Cab_Coolers_MTOM.htm