Companies aim to develop highly accurate, low-cost, near-autonomous small tractor solutions
AgJunction Inc. (TSX: AJX), the Autosteering Company™ ("AgJunction"), announced today that it is partnering with Swift Navigation to develop near-autonomous small tractor solutions for agricultural applications with high accuracy and at a reasonable price point.

This partnership will combine autosteering technology pioneered by AgJunction and the Duro® RTK GNSS receiver from Swift Navigation. The research resulting from this partnership will ultimately lead to lower cost autosteering products with high accuracy.
"Duro, and the robust RTK GNSS positioning it delivers, is a source of pride for Swift," shared Tim Harris, CEO of Swift Navigation. "With a mission to enable a future of autonomous vehicles, we strive to bring that autonomy to farm equipment — such as small tractors — at an affordable price for farmers and partnering with the renowned autosteering expert AgJunction helps make that a reality."
"AgJunction and Swift have been groundbreaking in their respective fields," said Dave Vaughn, President and CEO of AgJunction. "I'm eager for what the future holds and how we can further deliver low-cost autosteering and navigation while delivering high accuracy down to a centimeter."
About AgJunction
AgJunction Inc., the Autosteering Company™ is a global leader of advanced guidance and autosteering solutions for precision agriculture applications. Its technologies are critical components in over 30 of the world's leading precision Ag manufacturers and solution providers and it holds approximately 200 patents and patents pending. AgJunction markets its solutions under leading brand names including Novariant®, Wheelman™, and Whirl™ and is committed to advancing its vision by bringing affordable hands-free farming to every farm, regardless of terrain or size. AgJunction has locations in California, Arizona, and Australia, and is listed on the Toronto Stock Exchange (TSX) under the symbol "AJX." For more information, please go to AgJunction.com.
About Swift Navigation
Swift Navigation, Inc. has been redefining GNSS positioning technology since 2012. What began as the industry's first low-cost, high-accuracy, real-time kinematic (RTK) receiver has evolved into an ecosystem of GNSS positioning solutions for autonomous applications. The Starling® Positioning Engine is an integrated software solution for precise positioning while the Skylark™Cloud Corrections Service delivers GNSS corrections across the contiguous U.S. —eliminating traditional geographical restrictions. Piksi® Multi and ruggedized Duro® and Duro Inertial RTK receivers deliver centimeter-level accuracy at an affordable price, making them ideal for commercial and industrial applications. Swift Navigation's technology benefits a multitude of industries and applications — including autonomous vehicles, precision agriculture, robotics, rail, unmanned aerial vehicles (UAVs) and surveying. Swift Navigation is enabling a future of autonomous vehicles to navigate and understand the world, where autonomous transportation can safely take you home, fields farm themselves and your next application can be a reality. Learn more online at swiftnav.com, follow Swift on Twitter @Swiftnav.
Featured Product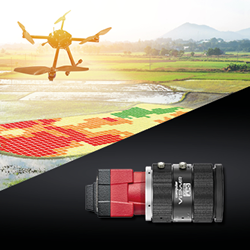 Allied Vision's compact and light weight Alvium SWIR (short wave infrared) cameras are the ideal choice to build cost-effective OEM systems used in embedded and machine vision applications. The cameras support a spectral range from 400 nm to 1700 nm at high quantum efficiencies. This allows to capture images in both the visible and SWIR spectra with a single camera and enables users to reduce overall system costs! Equipped with Sony's IMX990 and IMX991 SenSWIR InGaAs sensors, Alvium SWIR cameras deliver high image quality and frame rates. This makes them well suited for drones or handheld devices used in various industries such as, agriculture, mining, solar cell inspection or medical.