Green Hemp Farms has 2 extraction / distillation facilities; 300L CO2 extraction in Delta, Colorado and Ethos-6 Alcohol extraction in Louisville, Kentucky. This year in 2019, under the guidance of COO, Mr. Keith Sprau,Green Hemp Farms is cultivating 150 acres for Hemp as well as preparing 500,000 clones consisting of 6 strains with CBD 12% to 16%.
Green Hemp Farms Inc. was established in 2017 by Garry Dhaliwal, MD an entrepreneur from Florida when every investor was busy with Cannabis (Marijuana). 300L CO2 extraction unit was installed in March 2018 at 8200 sq ft facility in Delta, Colorado. After 12 months in May 2019, Ethos-6 Alcohol extraction unit from Capna is installed in 15,000 sq ft facility in Louisville, Kentucky. Both units extract and distill 500 Kg of CBD oil per month.

Mr. Keith Sprau with 10 years experience in Cannabis outdoor, greenhouse and indoor cultivation joined Green Hemp Farms in January 2019 as Chief Operating Officer. Under his guidance and direction, Louisville facility started cloning 6 strains of hemp with cbd 12% to 16% to produce approximately 500,000 clones
that will be sufficient to plant 150 acres in Gravel Switch, Kentucky.
Green Hemp Farms leases 309 acres of agriculture farm in Gravel Switch, Kentucky from its sister company GSD investments LLC. Garry and Keith both are excited on their progress and plan to cultivate at least 300 acres next year. They plan to produce close to 2 million clones, more than half of which will be sold to area farmers.
When asked about future expansion plans, Green Hemp Farms has 62,000 sq ft facility in La Junta, Colorado that they plan to renovate and produce indoor clones as well as manufacture end user products. They are looking to develop CBD mixed drinks, juice, milk, wine and beer besides another extraction facility probably with upcoming Microwave Technology.
Featured Product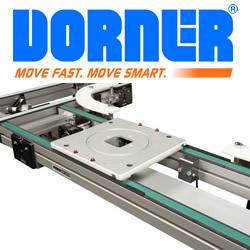 Dorner's 2200 Series Precision Move Pallet Systems feature the latest advancements in pallet traffic management. A unique pin tracking system guides pallets through merges and curves while maintaining product orientation. The fast belt change capability increases efficiency and reduces downtime in assembly automation processes. They are available in lengths up to 25 ft., can handle loads up to 500 lbs. and travel at speeds up to 114 ft/min.