The annual Agfunder Award recognizes technological innovation and excellence in the agriculture industry.
Seed-X, whose unique AI and computer vision technology enriches seed performance, has won a 2019 Agfunder Innovation Award for the "Most Innovative International Startup Pre-Series A."

The annual Agfunder Award recognizes technological innovation and excellence in the agriculture industry.
Seed-X non-destructive analysis uses deep learning, AI, and machine vision to deliver comprehensive insights about each individual seed, revealing correlations between the seed phenotype and genotype to identify multiple traits simultaneously for better research and planning.
Seed-X Feedback
"We are honored to receive this award and proud of their recognition of Seed-X's impact in reshaping our marketplace," said Sarel Ashkenazy, Seed-X founder & CEO. "This is further confirmation of our product's unique status and strengthens awareness about how we are transforming breeding and production processes."
Agfunder Innovation Awards
The AgFunder Innovation Awards recognize the innovators and entrepreneurs driving the agri-food tech industry forward, nominated by a committee of global agrifood tech investors and the winners peer-selected through over 5,000 industry votes.
This year the awards were presented on March 20 as part of the Rethink Agri-Food Innovation Week in San Francisco, at a special networking evening bridging the World Agri-Tech and Future Food-Tech summits. A unique opportunity to celebrate excellence and network with the entire agri-food innovation ecosystem.
About Seed-X
Seed-X understands the seed from the inside, allowing selection of only the desired traits to create better seeds. Seed-X uses AI, deep learning, and machine vision for intensive seed-by-seed, non-destructive examinations to deliver deep genotypic analyses from seed phenotypes. The Seed-X solutions reduce breeding costs, accelerate time to market, maximize use of resources, strengthen quality control, and minimize breeding time. Seed-X is working with the world's leading agricultural researchers and seed companies.
For more information, visit our website at: https://www.seed-x.com/ or contact us at info@seed-x.com.
Featured Product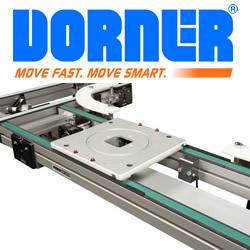 Dorner's 2200 Series Precision Move Pallet Systems are ideal for assembly automation. With features such as an innovative timing belt conveyor design and industry best pallet transfers, they get your product to the exact location, at the exact time and in the exact position it needs to be. They are now available with new options such as heavy load corner modules with 150 lb. capacity and 180 degree tight transfer corners for compact loops.