The greenhouse manufacturer will be present for multiple trade shows in the agricultural industry.
GrowSpan Greenhouse Structures announced their attendance for multiple upcoming trade shows in January of 2019. GrowSpan will be present for UCONN Extensions Vegetable and Small Fruit Growers Conference, the Cut Flower and Bedding Conference, the Mid-Atlantic Nursery Trade Show (MANTS) and Total Pro Expo.

UCONN Extensions Vegetable and Small Fruit Growers Conference will be held on January 7th at Maneeleys in South Windsor, Connecticut. The single day event will provide education and growing advice, ranging from labor laws to irrigation, for growers to apply to their businesses for a more prosperous future.
The Cut Flower and Bedding Conference takes place on January 7th and 8th at the Hilton Garden Inn in Troy, New York. Attendees can meet with exhibitors and fellow growers during two-day conference. Pest management, climate change, worker safety and peony production are just a few of the topics that will be explored in lectures and presentations.
From January 9th-11th, GrowSpan Greenhouse Specialists will be present for MANTS at booth 2787. Visitors can explore the trade show at the Baltimore Convention Center and meet with nearly 1,000 exhibitors and vendors. This will be the 49th year MANTS provides a wealth of information for growing industry professionals.
GrowSpans last trade show of the month will be Total Pro Expo and Conference, held on January 29th and 30th at the New Jersey Convention Center. Guests can visit GrowSpan at booth 220 to discuss the latest greenhouse improvements and growing solutions. The conference will have educational tracks for landscape, pesticide, hardscape and a plant showcase, allowing attendees to gain a wealth of expert knowledge.
GrowSpan Greenhouse Specialists will be available at each conference to discuss the numerous opportunities for growers to produce healthier crops for a more sustainable operation. GrowSpan offers durable structures, environmental control solutions, automated systems and invaluable expert consulting to help each grower reach their full potential.
GrowSpan Greenhouse Structures is the leading manufacturer of greenhouses, high tunnels and cold frames to fulfill every growers needs. With a comprehensive line of structures, GrowSpan can provide the environmental control growers desire to improve functionality and increase business profits. Professional and commercial operations can benefit from a technologically advanced greenhouse made by GrowSpan.
For more information, visit http://www.GrowSpan.com or call 1-800-476-9715 to speak with a greenhouse specialist.
Featured Product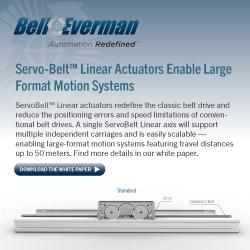 Manufacturing and packaging operations that still depend on manual material or parts handling operations can reap immediate benefits from a type of automation based on long-travel Cartesian robots with custom end-of-arm tooling (EOAT) and advanced sensing capabilities. These robots can support a variety of machines - performing otherwise manual tasks such as machine tending or transferring in-process parts - making long-travel Cartesian transfer robots a major upgrade to processes and operations. Download the White Paper from Bell-Everman