Oslon Black SFH 4736 near-infrared LED (NIRED) helps farmers harvest at the right time
Osram, a leader in the optoelectronic industry, today announced its new Oslon Black SFH 4736 near-infrared LED (NIRED). When installed in a smartphone or tablet, the NIRED offers a simple way for farmers to scan fruit, vegetable or grain crops, generating reliable information about the sugar, water and fat content. One of the most important decisions for farmers and vineyard owners is picking the right time to harvest. This not only ensures that the produce has the best possible taste, but also saves precious time and money during the processing and shipment stages.

Determining ripeness is made possible by near-infrared spectroscopy. This process involves scanning the content of various types of fruit, vegetables and grains - and takes only a few seconds. For example, a farmer would select a random ear of wheat, scan it with a smartphone, and just a few seconds later read the results on the display.
The NIRED irradiates the sample with a defined spectrum of light. Depending on its precise composition, the sample will reflect only a certain proportion of that light. The spectrometer then processes the information and integrates it into the smartphone or tablet. The reflected light can be considered a kind of "photometric fingerprint." These measurements indicate the existence and quantity of certain nutrients, allowing farmers to take samples and easily monitor the progress of their crops in real time so they can plan the ideal time for harvest.
"By focusing on making progress for farmers, the new Oslon Black SFH 4736 near-infrared LED takes farming technology to the next frontier," said Karl Leahy, Director of Emitters, Lasers and Sensors at Osram Opto Semiconductors. "Our unique NIRED allows farmers to optimize their crop yield, as well as enhance harvest efficiency while keeping costs down."
In late 2016, Osram Opto Semiconductors unveiled the SFH 4735 as the worlds first broadband emitter of its kind. The previous model is being used in various applications including in SCiO, one of the first near-infrared micro-spectrometers for the consumer market from Consumer Physics. The SFH 4736, which achieves almost twice the output thanks to its newly integrated lens, is also suitable for use in the professional sector and can provide valuable assistance to farmers.
ABOUT OSRAM
OSRAM, based in Munich, is a leading global high-tech company with a history dating back more than 110 years. Primarily focused on semiconductor-based technologies, our products are used in highly diverse applications ranging from virtual reality to autonomous driving and from smartphones to smart and connected lighting solutions in buildings and cities. OSRAM uses the endless possibilities of light to improve the quality of life for individuals and communities. OSRAMs innovations enable people all over the world not only to see better, but also to communicate, travel, work and live better. OSRAM has approximately 27,400 employees worldwide as of end of fiscal 2018 (September 30) and generated revenue of more than €4.1 billion. The company is listed on the stock exchanges in Frankfurt and Munich (ISIN: DE000LED4000; WKN: LED 400; trading symbol: OSR). Additional information can be found at www.osram.com.
Featured Product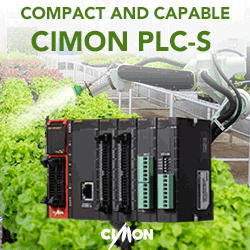 CIMON-PLC is an industrial control device based on international standards of IEC61131. It is designed for a plant site that requires industry-leading reliability. CIMON-PLC is optimized for Industry 4.0 and enhances the intelligence of industrial sites.