ClearAg Smart Content to Enhance Hummingbirds Remote-Sensing Crop Health Capability
Iteris, Inc. (NASDAQ: ITI), the global leader in applied informatics for transportation and agriculture, and Hummingbird Technologies Limited (Hummingbird), the UKs leading drone and satellite-enabled data and imagery analytics business for precision agriculture, today announced the addition of Iteris ClearAg® smart content to Hummingbirds aerial crop analysis platform.

The addition of ClearAg smart content to Hummingbirds artificial-intelligence (AI) powered crop analysis platform, which spans over 250,000 hectares of farmland in the UK, Brazil, Russia, Ukraine, Australia and New Zealand, will enhance its ability to detect key crop diseases before symptoms start to show.
"We are delighted to announce the enhancement of our remote-sensing capabilities with ClearAgs advanced weather and climatological modelling data," said Will Wells, chief executive officer of Hummingbird. "As the leading player in AI-based agritech, our ability to identify crop diseases before symptoms set in is a key area of research and development, and will ultimately help farmers and agronomists to make better decisions."
"We are excited to work with Hummingbird to harness the full power of ClearAg smart content in the companys AI-based crop analysis platform," said Jim Chambers, senior vice president and general manager, Agriculture and Weather Analytics at Iteris. "The team at Hummingbird are true innovators in precision agriculture, and now this groundbreaking company can leverage ClearAgs historical and current weather and climatological data to pre-empt crop diseases and improve crop health for safer and more sustainable farming."
Hummingbird is the only remote sensing business in UK agriculture to use AI that harnesses information from drone, plane and satellite technology, combined with weather and soil data, and expert plant pathology, to enable precision agriculture. Connect with Hummingbird on Twitter and Facebook.
About Iteris, Inc.
Iteris is the global leader in applied informatics for transportation and agriculture, turning big data into big breakthrough solutions. We collect, aggregate and analyze data on traffic, roads, weather, water, soil and crops to generate precise informatics that lead to safer transportation and smarter farming. Municipalities, government agencies, crop science companies, farmers and agronomists around the world use our solutions to make roads safer and travel more efficient, as well as farmlands more sustainable, healthy and productive. Visit www.iteris.com for more information and join the conversation on Twitter, LinkedIn and Facebook.
Featured Product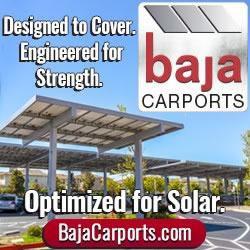 Baja Carports offers an extensive solar support system product line customized to customers' site specifications by in-house engineers, meeting their parking lot coverage, plus optimal PV production needs. Baja's Full Cantilever Tee is often paired with its Semi and Full Cantilever carports to meet live/loads up to 60psf and wind speeds to 160mph. All Baja products are pre-fabricated, bolted connections, pre-galvanized structural steel for fast on-site installation and project aesthetic requirements.