"There is nothing on the market that meets our quality and efficacy ratings and is as cost effective as our solutions are. In addition, the GroBar is assembled in the U.S.A. and is easily customized."
VividGro announced today that it has designated GrowGeneration (OTCMKTS: GRWG) as its first preferred vendor for their GroBar-X series of lighting solutions. The GroBar-X is the first of its kind. A semi-custom crop agnostic lighting solution. "While the industry is busy selling fixtures we are building lights," said David Friedman, CEO of VividGro. "There is nothing on the market that meets our quality and efficacy ratings and is as cost effective as our solutions are. In addition, the GroBar is assembled in the U.S.A. and is easily customized."

Michael Salaman, President and Co-Founder of GrowGeneration, views the VividGro solution as a unique selling opportunity. "Their command of the supply chain allows for reasonable margins at a very competitive price," Salaman said. In addition to representing the GroBar-X solution at its stores nationwide, GrowGeneration will carry the core fixture products. The FlowerMax, GrowMax and VegMax fixtures are built from GroBar-X configurations for off-the-shelf use.
VividGro's team of agronomists, engineers and sales professionals are training the GrowGeneration sales professionals on horticultural lighting. "We don't view GrowGeneration as a customer, this is a true partnership," Friedman added. Salaman intends to turn the GrowGeneration stores into sales offices nationwide.
"We love the opportunity to be at the forefront of these next generation solutions," remarked Jeremy Corrao, V.P. of Commercial Sales for GrowGeneration. "Grow Generation is the perfect partner for us to scale our market presence quickly with a quality team of operators," added Randy Shipley, V.P. of Sales for VividGro. GrowGeneration (booth #3164) and VividGro (booth #4626) will both be exhibiting at the MJ Biz Conference and Expo this week in Las Vegas.
About VividGro
VividGro is a pioneer in the AgTech space. Tailored to support the automation and efficiency needs of the indoor agriculture and horticultural markets, VividGro implements solutions that help growers maximize yields and reduce costs. The state-of-the-art, customized lighting product line delivers optimized PAR to maximize plant growth and PAR efficacy. Our control automation systems and data collection strategies are able to measure and modify growing to help growers learn how to use their resources more efficiently. It is not the lights you use; it is how you use them. Learn more at VividGro.com.
About GrowGeneration Corp
GrowGeneration Corp. ("GrowGen") owns and operates specialty retail hydroponic and organic gardening stores. Currently, GrowGen has 18 stores, which includes 5 locations in Colorado, 6 locations in California, 1 location in Las Vegas, 1 location in Washington, 3 locations in Michigan, 1 location in Rhode Island and 1 location in Oklahoma. GrowGeneration also operates an online superstore for cultivators, located at HeavyGardens.com. GrowGen carries and sells thousands of products, including organic nutrients and soils, advanced lighting technology and state of the art hydroponic equipment to be used indoors and outdoors by commercial and home growers. Our mission is to own and operate GrowGeneration branded stores in all the major legalized cannabis states. Management estimates that roughly 1,000 hydroponic stores are in operation in the U.S. By 2020 the market is estimated to reach over $23 billion with a compound annual growth rate of 32%. Learn more at GrowGeneration.com.
Featured Product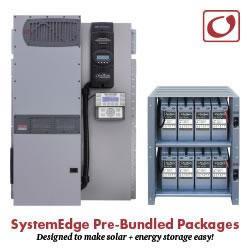 Each pre-bundled package is designed to make solar plus energy storage easy. By combining OutBack's most popular FLEXpower pre-wired systems with matched OutBack energy storage, SystemEdge takes the guesswork out of installing solar plus storage. Every SystemEdge package includes a FLEXpower factory pre-wired system, application-specific EnergyCell batteries and racking, FLEXware ICS Plus combiner and all the necessary connection hardware.