A&L Laboratories has updated and improved the way clients can access their reports, soil test results & analysis.
To easily access their A&L soil test data, customers can now login to the updated A&L Laboratories online DataWeb client portal or can view their soil data via the Climate FieldView™ platform.

The new, updated A&L DataWeb Client Portal is now live, offering customers a more comprehensive and easier-to-use access of A&L Reports and Analysis https://services.alcanada.com/dataweb2018/login.
The new portal:
• Can be customized for personal use
• Has expanded availability of A&L reports (not just soils)
• Allows for access to precision ag maps
• Allows users to access past Reports for in-depth analysis
A brief online training video is also available to help clients quickly access and utilize the portal https://www.youtube.com/watch?v=2RAA6zQFd6g.
A&L Laboratories has also partnered with The Climate Corporation, a Bayer company, which will enable clients who use Climate FieldView to view their A&L soil test results and analysis.The FieldView platform aims to let farmer users consolidate all their data in one place with connectivity across many equipment types, makes, models and systems, so you can easily collect, store and view field data for more of the inputs growers manage through the season.
"Over the past two growing seasons, Canadian farmers across millions of acres have experienced the value of the Climate FieldView platforms data-driven, digital tools to help address the many decisions they make each year to optimize productivity," said Denise Hockaday, Canada business lead for The Climate Corporation. "A&L Laboratories is an ideal partner with their approach to enhancing growers outcomes, strong industry partnerships and customer focus."
"Climate FieldView has a growing market presence in the collection and sharing of digital on-farm data as more farmers employ a digital strategy for their farm. Visibility of A&L soil tests results and analysis on FieldView allows farmers easy access to their field level data," said Nevin McDougall, A&L Labs President and CCO. "Its great to deliver solutions for farmers by partnering with innovative companies in the industry. Were excited about the future of agriculture."
About A&L
We are an innovative, research driven technology company focused on sustainable development. Through leading expertise, modern laboratory facilities and strong customer focus, A&L serves a wide range of industries including Agriculture, Environmental, Food & Pharma -- globally.
In Agriculture, A&L provides comprehensive analytical services for soil, plant tissue, feed, fertilizer, and water. A&Ls services also include production recommendations, remote sensing and precision agriculture capabilities. A&L Biologicals Inc. focuses on research and development of biological compounds for use in agricultural production systems. The A&L Environmental division provides organic and inorganic chemistry and general chemistry using state of the art technology and methodology. For Food & Pharma, A&L provides analytical services for plant tissue, water, media and finished product. A&Ls services also include disease diagnostics, genetic analysis, production recommendations, and Plant Monitoring Program. The company operates two world class analytical laboratories serving clients throughout Canada, the U.S. and Internationally.
For more information visit our website www.alcanada.com.
About The Climate Corporation
The Climate Corporation, a subsidiary of Bayer, aims to help all the worlds farmers sustainably increase their productivity through the use of digital tools. The integrated Climate FieldView digital agriculture platform provides farmers with a comprehensive, connected suite of digital tools. Bringing together seamless field data collection, advanced agronomic modeling and local weather monitoring into simple mobile and web software solutions, the Climate FieldView platform gives farmers a deeper understanding of their fields so they can make more informed operating decisions to optimize yields, maximize efficiency and reduce risk. For more information, please visit www.climate.com and follow the company on Twitter @climatecorp.
Featured Product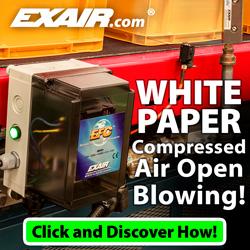 Why is compressed air safety a concern? How Cabinet Coolers Can End Costly Shutdowns A low cost, reliable way to cool and purge electronic control panels. EXAIR Cabinet Coolers incorporate a vortex tube to produce cold air from compressed air - with no moving parts. NEMA 12, 4, and 4X Cabinet Coolers that match the NEMA rating of the enclosure are available in many cooling capacities for large and small control panels. Cabinet Coolers convert an ordinary supply of compressed air into clean, cold 20ºF air. Learn more about Cabinet Coolers in EXAIR's white paper "How EXAIR Cabinet Coolers Can End Costly Shutdowns". http://www.exair.com/184/Cab_Coolers_MTOM.htm