GroGuru to present and participate in an expert panel discussion on Agriculture & Irrigation Technology at the BlueTech Investor Day
GroGuru will be part of an expert speaking panel about Agriculture & Irrigation Technology at the 10th annual BlueTech Week on November 8th, 2018. GroGuru has also been selected as one of ten companies in the sustainable innovation economy to present to a panel of expert judges and other investors at the BlueTech Investor Day on Friday, November 9th.

"We are very excited to be part of the 10th Annual BlueTech Week as both a panelist and participant in the investor day," said Patrick Henry, president & CEO of GroGuru. "There is nothing more important to our world economy than water and food; and how we will deal with the ongoing challenges of population growth, climate change, and the need for increased food production in a sustainable way is becoming increasingly crucial."
BlueTech Week runs from November 5th-9th in San Diego, and is all about the companies and the people driving the sustainable Blue Economy. It's an annual event which brings hundreds of senior international participants together in San Diego to highlight collaboration, innovation in sustainable ocean and water technologies and entrepreneurs who are making it happen.
BlueTech Week attracts a growing audience from across the United States and globally for a series of intimate executive level events that bring together representatives of academia, industry, and policymakers ("the triple helix").
BlueTech Week is presented by The Maritime Alliance, which is the non-profit organizer of San Diego's ocean and water technology (BlueTech) cluster and the largest BlueTech cluster in the United States.
To learn more about BlueTech Week or to register for the event, visit https://www.bluetechweek.org/welcome.
About GroGuru
GroGuru, Inc. is a privately held company based in San Diego, CA focused on enabling farmers to optimally use water and fertilizer with an innovative hardware-enabled Software as a Service (Saas) solution. The GroGuru solution is analogous to giving growers X-Ray vision to the water in the ground. GroGuru is a portfolio company at EvoNexus technology incubator, the premier technology incubator in Southern California. For more information, visit the GroGuru website at https://www.groguru.com.
Featured Product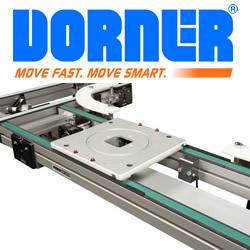 Dorner's 2200 Series Precision Move Pallet Systems feature the latest advancements in pallet traffic management. A unique pin tracking system guides pallets through merges and curves while maintaining product orientation. The fast belt change capability increases efficiency and reduces downtime in assembly automation processes. They are available in lengths up to 25 ft., can handle loads up to 500 lbs. and travel at speeds up to 114 ft/min.