Smart Agriculture Market (Solutions - Network Management, Agriculture Asset Management, Supervisory Control and Data Acquisition, Logistic and Supply Chain Management, and Smart Water Management; Application - Precision Agriculture, Livestock Monitoring, Fish Farming, and Smart Greenhouse) Future Scenario
The global market for smart agriculture features a highly fragmented vendor landscape and is likely to remain highly competitive in the next few years as well, thanks to the increased entry of a number of regional companies in the market, observes Transparency Market Research in a recent report. In 2016, the leading four companies, namely Raven Industries, Inc., Trimble Navigation, Deere & Co, and AgJunction, Inc., collectively held only about 15.5% in the market, which translates to a larger access of smaller players to demand and growth opportunities.

According to the report, the global smart agriculture market will exhibit an impressive 13.5% CAGR over the period between 2017 and 2025, rising from a valuation of US$6.55 bn in 2016 to a revenue opportunity of US$23.44 bn by 2025. Of the key applications, the segment of precision agriculture accounted for nearly 50% of the overall market in 2016. Geographically, the market in North America is likely to emerge as the most promising regional market owing to the high demand for automation in the field of commercial agriculture.
Benefits in Promoting Improved Yield and Enhanced Efficiency to Drive Demand
The global smart agriculture market is driven chiefly due to the increasing pressure on the agriculture industry to improve production to serve a steadily rising population. Rising awareness regarding the vast benefits of advanced technologies on improved production capacities and reduced time of undertaking several processes, increased focus of government bodies on making the agriculture sector more productive through several regularity reforms and funds could help the market achieve a healthy growth trajectory in the near future.
Easy availability of advanced agriculture machines and associated technologies, rising concerns regarding shrinking arable lands, and rising population of tech-savvy and well educated farmers are also likely to benefit the market in the near future.
Low Awareness and High Cost of Smart Agriculture Products Inhibits Market Growth
One of the key restraints for the global smart agriculture market is the lack of awareness among a large share of global population regarding the vast benefits of advanced farming techniques on production volumes and reduction in time required for undertaking several common procedures. The scenario especially prevails in emerging countries across the globe where farmers continue to struggle and deal with other challenges such as water supply shortages, bad weather, and a lack of undated understanding regarding the available technologies. To a large set of this potentially target consumer, the high cost of smart agricultural devices also stands as a major hurdle in adopting new technologies and advanced devices.
Nevertheless, this vast untapped market can be tapped through proliferative marketing techniques, funds from government bodies, which are more frequently coming by in emerging economies as governments plough in more resources towards the improvement of the agriculture sector, and the rising network of internet in rural and remote areas. Additional support is likely to come in through favorable initiatives from not only governments but also social bodies that aim at the empowerment of the agriculture industry in emerging countries.
Featured Product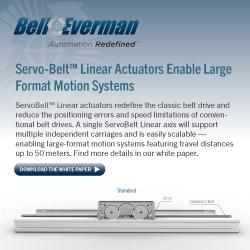 Manufacturing and packaging operations that still depend on manual material or parts handling operations can reap immediate benefits from a type of automation based on long-travel Cartesian robots with custom end-of-arm tooling (EOAT) and advanced sensing capabilities. These robots can support a variety of machines - performing otherwise manual tasks such as machine tending or transferring in-process parts - making long-travel Cartesian transfer robots a major upgrade to processes and operations. Download the White Paper from Bell-Everman