~ $14m funding from Anterra Capital, Rabo Frontier Ventures, Coventure, Social Leverage, FJ Labs, Greenhouse Capital, Moonshots Capital and Tribeca Angels ~ ~ Series B Funding follows ProducePay financing $400m of produce in 2017 ~
ProducePay, the Los Angeles based company which provides fresh produce farmers with financial resources, tech tools and data insights, has secured $14m (£11m) in a Series B Funding round. The funding was led by Anterra Capital, with participation from Rabo Frontier Ventures (Rabobank strategic investment fund), Coventure, Social Leverage, FJ Labs, Greenhouse Capital, Moonshots Capital and Tribeca Angels.

Addressing the lack of proper short-term access to financing and transparency within the farming industry supply chain, ProducePay has created the first ever means of securitizing perishable produce as a financial asset through the use of technology. Alleviating financial pressure for growers, while also freeing up cash flow for distributors, ProducePay provides immediate access financing for farmers and distributors in the United States, Mexico, Canada, Honduras and Chile for fresh produce sold in the United States.
The Series B funding will be used to finance the next growth phase of the business as it scales its financing business and develops its software platform. It follows significant growth in 2017, in which the company financed $400m of produce, up from $17m in 2015. Founded in 2015, ProducePay has provided liquidity to over 600 growers and distributors in six countries, financing over $850m of produce in under four years.
In addition to cash flow solutions, ProducePay has recently launched multiple tools for online trading and data insights. These tools aim to streamline the produce sales process by allowing verified distributors and grower shippers to find new business partners, communicate digitally and access real-time pricing and market conditions.
Pablo Borquez Schwarzbeck, CEO, ProducePay, commented:"We have spent the last three years reinventing how the produce industry accesses short term cash needs and the transparency of their supply chain. To date, ProducePay has helped move over $850m of produce. By receiving financial support from Anterra Capital, the leading Food & AgTech VC, and Rabobank, the worlds premier Ag-focused bank, we are empowered to continue on the path to becoming the fintech leader of the produce industry."
Adam Anders, Managing Partner, Anterra Capital, commented:"ProducePay is disrupting the inefficient food supply chain by addressing the issue of access to finance, while supporting a highly underserved community of farmers. This investment is aligned with Anterras focus on backing innovative visionaries who are building the food systems of tomorrow through sustainable business models. We look forward to working with the team as they take the company through the next stage of its growth."
Harrie Vollaard, Head of Rabo Frontier Ventures at Rabobank, commented: "As the global leading Food & Agri bank, Rabobank aims to partner with revolutionary ventures in agriculture technology. ProducePay offers a solution that perfectly fits the Food & Agri ambitions of Rabobank. Their service addresses a significant pain point in the fresh produce value chain. The platform enables farmers to connect to food retailers in a more cost efficient and less risky way, of which all involved parties in the food value chain will benefit."
About ProducePay:
ProducePays mission is to help farmers feed the world in a sustainable way. Were working to empower the people that grow, handle, and transport our food by providing them with financial resources, tech tools, and data insights.
ProducePays Financial Solutions provide produce growers, distributors, shippers and marketers with new ways to access cash flow and increase sales. Our tools for online trading and insights allow produce buyers and sellers to find new business connections and access real-time pricing and market conditions.
About Anterra:
Anterra Capital is a specialist venture firm. It backs the visionaries who are building the food systems of tomorrow.
Anterra works with entrepreneurs to make sure their breakthroughs can take hold in food and agriculture. From developing new materials that extend shelf life to digitizing agriculture, the impact of its portfolio spans the value chain.
Armed with deep sector expertise in both business and agriculture, Anterra collaborates closely with its entrepreneurs to help them navigate the intricacies of high-barrier industries and commercialize their work. Its patient venture capital supports long-term growth through the growing seasons.
Backed by Rabobank and Eight Roads, Anterras reach extends globally with offices in Amsterdam and Boston, Massachusetts.
To learn more, please visit: http://www.anterracapital.com
Featured Product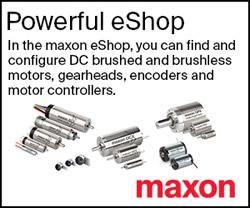 Discover the world of drive technology from a leading worldwide supplier of innovative customized drives. - Manufacturer of brushed and brushless DC motors, gearheads and motion controllers - Custom drive systems, quantities as low as a single unit - Certified for aerospace and medical applications