-Growers of Indigo Certified Cotton™ can increase their profitability with higher yields and guaranteed premiums on acres marketed with Indigo -The base agreement of the offer includes Indigo® microbial treated seed and agronomic support, with the option to add other services available through Indigo -Growers can market their fiber independently, or find buyers through Indigo
-Indigo Ag, Inc., a company dedicated to harnessing nature to help farmers sustainably feed the planet, announces its latest offer, Indigo Certified Cotton™. Available for the 2019 crop season, Indigo Certified Cotton offers growers premier inputs to achieve higher yields and flexibility to decide how to market their fiber, while also emphasizing sustainable growing practices.

Indigo Certified Cotton covers dryland and irrigated acres with seed financed at 0%. Indigos microbial-treated seeds and data-driven agronomic support constitute the base of the offer, with the option to take advantage of Indigos other services. Growers, when marketing with Indigo, will receive a premium on every acre of Indigo Certified Cotton sold. As with other crops within the Indigo Certified Crops™ program, growers may also market to buyers outside of Indigo.
"The latest offer for Indigo Certified Cotton reflects insights gathered from our previous production season, and our continued commitment to the sustainable production of fiber," said David Perry, Indigos President and CEO. "This new offer also provides increased marketing flexibility, so that growers can choose to sell with Indigo, or through their normal channels. Finally, this comprehensive offer includes access to data-based agronomic advice, allowing growers to improve their profitability and environmental sustainability."
Indigo Certified Crops now consists of cotton, rice, soybean, and corn. For more information on Indigo Certified Cotton, other crops within the Indigo Certified Crops offer, and other offers for the upcoming season available through Indigo Production™, visit www.indigoag.com.
About Indigo
Indigo improves grower profitability, environmental sustainability, and consumer health through the use of natural microbiology and digital technologies. Utilizing beneficial plant microbes and agronomic insights, Indigo works with growers to sustainably produce high quality harvests. The company then connects growers and buyers directly to bring these harvests to market. Working across the supply chain, Indigo is furthering its mission of harnessing nature to help farmers sustainably feed the planet. The company is headquartered in Boston, MA, with additional offices in Memphis, TN; Research Triangle Park, NC; Sydney, Australia; Buenos Aires, Argentina; and São Paulo, Brazil. For more information on Indigo Agriculture, please visit www.indigoag.com and follow us on Twitter, Facebook, and LinkedIn.
Featured Product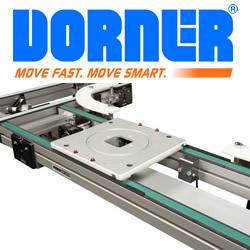 Dorner's 2200 Series Precision Move Pallet Systems are ideal for assembly automation. With features such as an innovative timing belt conveyor design and industry best pallet transfers, they get your product to the exact location, at the exact time and in the exact position it needs to be. They are now available with new options such as heavy load corner modules with 150 lb. capacity and 180 degree tight transfer corners for compact loops.