The Climate Corporation has invested heavily in research and development to ensure its predictive models and digital tools provide significant value for farmers when they are deployed commercially.
Today, The Climate Corporation, a subsidiary of Bayer, announced the advancement of a new predictive seed selection and placement technology to pre-commercial testing. This fall, approximately 50 seed dealers will be testing Seed Advisor, a data science-driven tool that provides dealers with a ranked hybrid recommendation by field and optimal seeding rate recommendation to help their farmer customers manage risk and maximize yield. This technology empowers dealers with a predictive model that combines the industry's largest, proprietary seed genetics library with regional seed performance data to predict the best performing hybrid for the unique agronomic conditions of each field.

"Next generation digital farming technologies like Seed Advisor are on the horizon, and they're powered by deep datasets and expansive field trial research, but most importantly, they work," said Sam Eathington, chief science officer for The Climate Corporation. "This pre-commercial testing phase with dealers and farmers is part of a rigorous development process we employ before introducing new, data-driven tools to the market that includes model validation against real-world field data and on-farm field testing."
The Climate Corporation has invested heavily in research and development to ensure its predictive models and digital tools provide significant value for farmers when they are deployed commercially.
Bringing Digital Farming Products to Market
Build It: The Climate Corporation applied machine learning techniques to build the Seed Advisor model using the most comprehensive seed genetics library in the world.
Validate It: As the leading digital farming provider, The Climate Corporation has the unique ability to validate the Seed Advisor model against real-world seed performance data. The model was validated against more than 4 million acres of historical, real farm performance data in the Climate FieldView™ platform.
Test It: In 2017, Seed Advisor demonstrated an average advantage of 6 bushels per acre with a nearly 80 percent win rate in farmer field trials. 2018 testing is underway on more than 100,000 acres, with expanded pre-commercial testing planned for the 2019 growing season. The pre-commercial test, called the Climate FieldView Innovators program, is targeting approximately 200 farmer participants.
After model validation against real-world data and extensive in-field testing, The Climate Corporation is targeting a launch of Seed Advisor for fall of 2019 across the U.S., pending the results of the 2019 season's FieldView Innovators program.
Seed dealers participating in the FieldView Innovators pre-commercial test are playing a crucial role of delivering this innovative technology. "Seed Advisor is bringing vast data sets together that provide new insights about our customers' fields," said Greg Deim, Channel Seed Dealer and farmer. "We've always made hybrid mix recommendations based on the best available information. This new technology is taking our seed recommendations to the next level and helping our farmer customers maximize yield potential while balancing risk."
The Climate Corporation is committed to leading the digital ag industry with the most comprehensive R&D. Building momentum across all areas of focus, key innovation highlights include progress in disease identification and risk management, variable-rate fertility, and sensor-enabled agronomics. The company announced an expansion of its disease identification technology to include 12 corn and soybean diseases and significant progress in applying machine learning techniques to predict disease risk in fields before emergence.
First launched in the United States in 2015, the Climate FieldView digital agriculture platform is targeted to be on more than 50 million paid acres across the United States, Canada, Brazil and Europe. It has quickly become the most broadly connected platform in the industry and plans to expand into new global regions over the next few years.
About The Climate Corporation
The Climate Corporation, a subsidiary of Bayer, aims to help all the world's farmers sustainably increase their productivity through the use of digital tools. The integrated Climate FieldView™ digital agriculture platform provides farmers with a comprehensive, connected suite of digital tools. Bringing together seamless field data collection, advanced agronomic modeling and local weather monitoring into simple mobile and web software solutions, the Climate FieldView platform gives farmers a deeper understanding of their fields so they can make more informed operating decisions to optimize yields, maximize efficiency and reduce risk. For more information, please visit www.climate.com and follow the company on Twitter @climatecorp.
About Bayer
Bayer is a global enterprise with core competencies in the Life Science fields of healthcare and agriculture. Its products and services are designed to benefit people and improve their quality of life. At the same time, the Group aims to create value through innovation, growth and high earning power. Bayer is committed to the principles of sustainable development and to its social and ethical responsibilities as a corporate citizen. In fiscal 2017, the Group employed around 99,800 people and had sales of EUR 35.0 billion. Capital expenditures amounted to EUR 2.4 billion, R&D expenses to EUR 4.5 billion. For more information, go to www.bayer.us.
Featured Product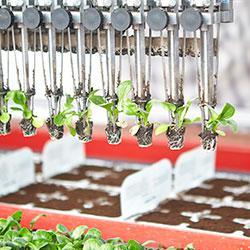 "Smart farming" is an important part of the answer to this existential question: Extremely high efficiency in food production through the targeted use of the latest technology, computer-supported and - where possible - fully automatic. Seeds are individually and precisely placed; fruits carefully picked by mechanical grippers; fertilizers and plant protection products applied in small doses and in a targeted manner. These operations require a large number of small electric motors that are both robust and powerful.