Leading protein-focused food company will leverage FoodLogiQs supplier management and reporting solutions
-FoodLogiQ, the leading SaaS provider of food safety compliance, whole chain traceability, and supply chain transparency solutions, announced today Tyson Foods has selected its FoodLogiQ Connects Manage + Monitor product for global supply chain visibility, streamlined supplier management, and quality issue tracking and reporting.

Tyson Foods boasts some of the most recognized brands on grocery store shelves today, including Tyson®, Jimmy Dean®, Hillshire Farm®, Ball Park®, Wright Brand®, Golden Island®, Aidells®, and State Fair®, just to name a few.
Tyson Foods selection of FoodLogiQ Connect for its supplier management needs was a natural progression of a developing relationship, according to Dr. Scott Stillwell, Senior Vice President of Food Safety and Quality Assurance for Tyson Foods, Inc. Tyson Foods food safety team recently joined a number of well-known food industry leaders as a participant in FoodLogiQ Labs new Blockchain pilot. Meanwhile, the Tyson Ventures team, the venture capital arm of Tyson Foods, is one of several prestigious companies to provide investor funding to FoodLogiQ during its B round of investment. Both teams were impressed by the FoodLogiQ product and its focus on mapping the worlds food supply chain.
"Tyson Foods and FoodLogiQ are aligned in our commitment to food quality, safety and transparency," says Stillwell. "Were both innovators within the food industry, always staying in front of emerging food and technology trends, and both believe in providing superior products to our customers. Tyson Foods strives to work with business partners who help us elevate and enhance our performance, and we look forward to working with FoodLogiQ."
Tyson Foods will utilize the FoodLogiQ Connect platform to:
Centralize supplier documentation to meet Tysons corporate quality standards and to facilitate new product evaluations.
Track and report on quality issues across their supply chain and address those issues with suppliers directly to drive product quality.
Leverage data-driven reporting to help make informed decisions about food quality issues, supplier performance and expiring documents.
"The name Tyson Foods is synonymous with excellence, and we are proud to add their company to our growing list of customers answering the call for greater transparency from their consumers," said Katy Jones, Executive Vice President of Sales and Marketing of FoodLogiQ. "The ease of use of the FoodLogiQ platform will allow Tyson Foods to realize a return on investment by creating efficiencies in their supply chain while also providing the visual and analytical reporting that will drive strategic decisions for their business."
Tyson Foods joins the ranks of FoodLogiQ customers that include Buffalo Wild Wings, CAVA, Chipotle Mexican Grill, CKE Restaurants, Compass Group USA, Five Guys Burgers and Fries, IPC/SUBWAY, Hain-Celestial and Whole Foods Market, as well as hundreds of growers, co-packers and produce marketers.
For more information, please visit www.tysonfoods.com and www.foodlogiq.com.
About Tyson Foods
Tyson Foods Inc. (NYSE: TSN) is one of the worlds largest food companies and a recognized leader in protein. Founded in 1935 by John W. Tyson and grown under three generations of family leadership, the company has a broad portfolio of products and brands like Tyson®, Jimmy Dean®, Hillshire Farm®, Ball Park®, Wright®, Aidells®, ibp® and State Fair®. Tyson Foods innovates continually to make protein more sustainable, tailor food for everywhere its available and raise the worlds expectations for how much good food can do. Headquartered in Springdale, Arkansas, the company has 122,000 team members. Through its Core Values, Tyson Foods strives to operate with integrity, create value for its shareholders, customers, communities and team members and serve as a steward of the animals, land and environment entrusted to it. Visit WWW.TYSONFOODS.COM.
About FoodLogiQ
FoodLogiQ® LLC is a leading SaaS provider of food safety compliance, traceability, and supply chain transparency solutions. We help restaurant operators, food retailers and other food companies achieve end-to-end traceability while supporting safe and high quality food products across the supply chain. FoodLogiQ Connect is an online supplier community used by food companies to manage quality, safety, audit, regulatory compliance and traceability needs across their supply chains. To meet mounting regulatory requirements and consumer demands for transparency, food companies are leveraging FoodLogiQ Connect to validate supplier compliance with food safety and act with confidence in the event of a food safety or quality issue. To request a demo, please visit http://www.FoodLogiQ.com/demo
Featured Product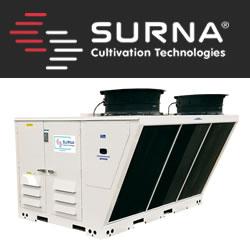 The EnviroPro Packaged DX HVACD Unit utilizes hot gas reheat to provide both cooling AND dehumidification all in one central unit. Its variable speed components allow it to make more nuanced adjustments, saving energy and avoiding temperature swings that can come from single-stage equipment. Due to its affordability, versatility, and industry-leading warranty, the EnviroPro Packaged unit is one of Surna's most popular HVAC offerings.