Drones help farmer for better care of their crops and have a higher yield from the farm. Drones are used for crops and to keep an eye on livestock as well. The drones use a number of technology including infrared cameras, sensors, GPS, software and hardware application to help farmers to monitor and take better care of their crops. Drones may drastically cut the costs of crops monitoring and control water wastage also. Due to such benefits, agricultural drones are gaining popularity across the globe.
Increasing automation in the agriculture process owing to the labor crisis such as lack of skilled farmers and aging farmers are also expected to have the positive impact on the agriculture drone market growth. A favorable shift in the regulatory policy is also expected to allow start-ups to operate in small and large farming operations and aid in disease & water management.

Increasing technological advancements in equipment and need for enhancing the quality of the farming techniques have led increased implementation of agriculture drones are expected to drive the industry growth over the forecast period. Further, innovations in the GPS mapping field coupled with the advancements of solar power drone in agriculture sector is further fuelling the demand for agricultural drones. Drones have the potential to implement better plantation with crop rotation strategies and give crucial inputs related to the daily progress of crops which is further contributing to the market growth.
Nonetheless, companies operating in drone software designing and manufacturing systems are collecting the data and incorporating them into drone which is further expected to surging the demand for agricultural drones. The data gathered from drones help the farmers to improve yields by monitoring fertilizer, or chemical supply water, and also able to map their fields, check for signs of disease, monitor crop health, and save time in the process. However, lack of trained pilots for operating the drones may impact the market growth.
Agriculture drone market is segmented by type, component, application and region. In term of type, agriculture drone market classified into the Fixed wing, Rotary blade, Hybrid, Data management, Imaging software, Data analysis Others. Component wise agriculture drone market is bifurcated into controller system, propulsion systems, camera systems, the navigation system, batteries and others. Based on application, global agriculture drone market is segmented into field mapping, variable rate application (VRA), crop scouting, crop spraying, livestock, agriculture photography and others.
Some of the key players in the agriculture drone market include GoPro, Google, Boeing DJI, Trimble Navigation Ltd., DroneDeploy, AgEagle LLC, AeroVironment, Inc., Agribotix LLC, AutoCopter Corp., 3DR, HoneyComb Corp., Parrot SA and Yamaha Motor.
Featured Product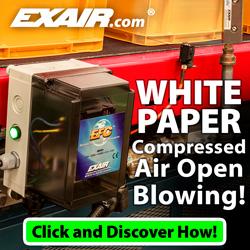 Compressed air is a limited resource that is generated in-house for the benefit of many operations within the manufacturing environment. Learn how to ensure all point of use applications are using your compressed air in the most effective and efficient way possible. Learn how much it costs to produce that compressed air and how Engineered Nozzles can help you use your air more effectively and efficiently.