The Wireless, In-Ground Probe Containing Soil Moisture & NPK Sensors is Now Available
NEW YORK, NY (AgPR) July 17, 2018 - Soil analytics company Teralytic has released a limited number of their wireless soil probes to be delivered in time for the 2019 planting season. The Teralytic probe contains 26 sensors, including the worlds first wireless NPK sensor, and its platform helps farmers produce more food with fewer resources by improving soil health in the fields. Probes are available worldwide and can be pre-ordered now through the Teralytic website.

"The collection of data in real-time allows growers to make more informed decisions regarding fertilization and irrigation," said Meagan Hynes, PhD, Teralytic's VP of Soil Science. "I'm also excited about the potential to use fertility and respiration data to evaluate soil health."
Combining a focus on soil health with AI, machine learning, and cloud technologies, Teralytic aims to reduce inputs and save farmers time by diagnosing the soils. "While drone and camera-based technologies can find problems as they appear on the plants, Teralytics probe warns farmers of changes in the soils before they become problems," said Steven Ridder, Founder and CEO of Teralytic.
Traditionally, soil testing is a manual and time-intensive process that can take days or weeks. But Teralytics sensors continuously check and report on soil quality—24 hours a day and 365 days a year—so farmers can take action sooner:
 Microclimate sensors measure air temperature, humidity, and light; soil sensors measure soil moisture, salinity, soil temperature, pH, and NPK; and gas sensors measure aeration and respiration.
 Sensors take a snapshot of soil conditions every 15 minutes.
 Probes connect to a gateway through LoRa wireless technology. The gateway sends data to the cloud via either cellular, satellite, or a standard internet connection, which can be accessed on any cellular device or desktop computer.
 Farmers can look ahead and gain insights about soils fertility now and into the future on an easy-to-use dashboard.
There is a 10-probe minimum starter bundle ($5,000 total) for this release, and each additional probe will be $500 each. This includes the LoRa gateway to connect probes and all the software necessary to run Teralytics analytics and generate custom insights.
Click here to pre-order Teralytics wireless soil probes. For more information, contact Steve at info@teralytic.com.
About Teralytic
Teralytic is a soil analytics company that makes it easy for farmers to grow more using less, while reducing the environmental impact of agriculture. Teralytics wireless probe contains 26 sensors to provide the most detailed soil quality data available, reporting soil moisture, salinity, and NPK at three different depths, as well as aeration, respiration, air temperature, light, and humidity. With no wires, no antennas, and an incredibly easy set-up, we provide customized recommendations and send real-time alerts to farmers phones and desktops. For more information visit www.teralytic.com.
Featured Product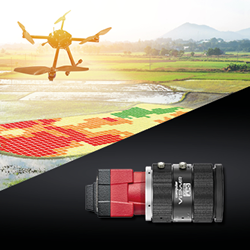 Allied Vision's compact and light weight Alvium SWIR (short wave infrared) cameras are the ideal choice to build cost-effective OEM systems used in embedded and machine vision applications. The cameras support a spectral range from 400 nm to 1700 nm at high quantum efficiencies. This allows to capture images in both the visible and SWIR spectra with a single camera and enables users to reduce overall system costs! Equipped with Sony's IMX990 and IMX991 SenSWIR InGaAs sensors, Alvium SWIR cameras deliver high image quality and frame rates. This makes them well suited for drones or handheld devices used in various industries such as, agriculture, mining, solar cell inspection or medical.