Any industry that requires a single-use, 100% nitrile glove can benefit from SHOWA's revolutionary and earth-friendly EBT gloves.
SHOWA's Eco Best Technology® (EBT) biodegradable nitrile gloves are perfectly suited for intricate parts handling all the way to light chemical handling in agriculture and horticulture. Any industry that requires a single-use, 100% nitrile glove can benefit from SHOWA's revolutionary and earth-friendly EBT gloves.

Not only are the Eco Best Technology® nitrile gloves the only biodegradable single use nitrile on the market, but they are patent pending. When these gloves are disposed, microorganisms consume, metabolize, and break down EBT materials into three natural compounds - organic soil, methane, and carbon dioxide. This creates fertilizer, leaving zero waste behind. These abilities have been validated by independent certified laboratories using ASTM international test methods ASTM D5526 & ASTM D5511 and ASTM E1963 conditions and pose no risk to terrestrial plant life.
Whether your company requires nitrile gloves suitable for laboratory, pharmaceutical, clean room, food industry, automotive, or harmful chemical use, the EBT gloves offer a new alternative to traditional latex gloves and all other non-biodegradable nitrile gloves.
In 1991, SHOWA introduced the world's first single-use, low-modulus (flexible and dexterous), natural latex free glove, and subsequently rocked the market. This invention and commercialization of this groundbreaking product forever changed the single-use world. Since then, the line has continued to expand and evolve to create a product that is not only durable, but one that is revolutionary in the world of hand protection.
SHOWA is known as a leader in the development, manufacturing, and marketing world of work gloves for personal protection. Our gloves are meticulously designed and engineered for worker and product protection. This means that SHOWA is committed to manufacturing the highest quality and most competitive products featuring 100% nitrile to avoid latex allergy risks and silicone free for safer skin. These products are also powder free to avoid contamination in the workplace.
Beyond the biodegradable Eco Best Technology® nitrile gloves, SHOWA offers a full line of single use nitrile gloves with the N-DEX® series. These 100% nitrile gloves come without plasticizers and avoid type I and type IV latex allergies. From medical and industrial to military and food safety, the N-DEX® line offers premium single use gloves for every job and every hand.
Learn more and find the perfect single use nitrile gloves for your company at https://ndex.showagroup.com
Featured Product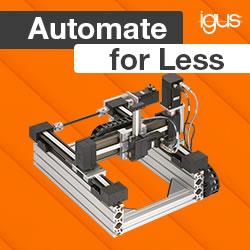 drylin® gantry robots consist of two base X-axes, a Y-axis, and an optional Z-axis. Their self-lubricating plastic liners have been engineered to slide instead of roll and to run smoother and quieter than recirculating ball bearings. drylin® gantries are also lightweight, corrosion-resistant, maintenance-free, and cost up to 40% less than traditional gantry robots. Visit this webpage to learn more.