As a Platinum Member of the Irrigation Association (IA), Rain Bird is encouraging the entire industry to join in supporting the IAs activities leading up to and throughout Smart Irrigation Month 2018.
July is Smart Irrigation Month, an initiative introduced in 2005 to promote the social, economic and environmental benefits of efficient irrigation in the landscape, golf and agricultural industries. As a Platinum Member of the Irrigation Association (IA), Rain Bird is encouraging the entire industry to join in supporting the IAs activities leading up to and throughout Smart Irrigation Month 2018.

"At Rain Bird, weve always believed that its our responsibility to develop products, services and technologies that use water efficiently," said Alex Nathanson, Rain Birds corporate marketing brand manager. "While water efficiency is important all year long, we see Smart Irrigation Month as a great opportunity for our industry to bring extra attention to the importance of smart irrigation technology and the impact intelligent water use has on everyones lives. From yards, parks and sports fields to farms, greenhouses and golf courses - if we all keep working together we can continue to enjoy the benefits of irrigation while ensuring that water is available for generations to come."
On Technology Tuesday, July 10, the IA encourages everyone to express their support by using the #SmartIrrigationMonth hashtag on social media. Numerous resources and tips are currently available for free download on the IA website (http://www.irrigation.org), including customizable infographics, social media cover photos, the Smart Irrigation Month logo, public service announcements, statement stuffers and other promotional materials. Industry partners can share their Smart Irrigation Month activities with the IA via an online activity tracker at https://www.surveymonkey.com/r/FLGQRWK. The association will recognize everyone who participates in this years initiative and thank them for their efforts to keep smart irrigation in the minds of professionals and consumers alike.
The IA is also hosting a Smart Irrigation Month video contest to help individuals, businesses and organizations share their perspectives on smart irrigation and the value of ever-improving irrigation technology. To enter the contest, interested parties can simply create a short video (60 seconds or less) and share it on Twitter or Instagram with the #SmartIrrigationMonth hashtag.
"Smart Irrigation Month also serves as an important reminder that droughts and water shortages can happen anytime, anywhere," Nathanson said. "Our customers throughout the agriculture, golf, residential and commercial landscape markets are doing brilliant work delivering solutions that keep crops growing and green spaces thriving while using the least amount of water possible. Rain Bird is proud to provide the technology and products that help make those systems possible and we hope that everyone will continue supporting ways to use water wisely - both now and in the future."
For more information about Smart Irrigation Month, visit http://www.irrigation.org. To learn more about Rain Bird and its complete line of water-efficient products and solutions for agriculture, golf and landscape, visit http://www.rainbird.com.
ABOUT RAIN BIRD:
Based in Azusa, Calif., Rain Bird Corporation is the world's leading manufacturer and provider of irrigation products and services. Since its beginnings in 1933, Rain Bird has offered the industry's broadest range of irrigation products for farms, golf courses, sports arenas, commercial developments and homes in more than 130 countries around the globe. Rain Bird has been awarded more than 450 patents worldwide, including the first in 1935 for the impact sprinkler. Rain Bird and The Intelligent Use of Water™ are about using water wisely. Its commitment extends beyond products to education, training and services for the industry and the community. Rain Bird maintains state-of-the-art manufacturing assembly facilities in the United States, China and Mexico. http://www.rainbird.com.
Featured Product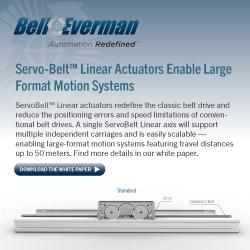 Manufacturing and packaging operations that still depend on manual material or parts handling operations can reap immediate benefits from a type of automation based on long-travel Cartesian robots with custom end-of-arm tooling (EOAT) and advanced sensing capabilities. These robots can support a variety of machines - performing otherwise manual tasks such as machine tending or transferring in-process parts - making long-travel Cartesian transfer robots a major upgrade to processes and operations. Download the White Paper from Bell-Everman