Colorado cannabis producer selects Thrive Agritech LED supplemental lighting for its two-acre greenhouse production facility
Thrive Agritech, Inc., a technology company focused on innovations in LED horticulture lighting ("Thrive"), today announced it has received a substantial order for its LED grow lights from Strawberry Fields, a leading medical and recreational cannabis producer headquartered in Colorado Springs, CO.

Thrive Agritechs Boost LED light will be installed in all two acres of Strawberry Fields greenhouses over its vegetative and flowering canopies as a supplement to natural sunlight. During 2017 Strawberry Fields conducted extensive testing of the Boost LED light as a replacement for its existing 1,000W HPS lights, and experienced compelling results. According to Strawberry Fields General Manager, Sam Thoman, "We saw a more uniform canopy growth with less elongation and better node stacking. Not only did the Boost light promote better overall growth, but it used less than half the energy of our HPS solution. And in areas where we werent previously using supplemental lighting we doubled our yields in the winter."
Thrive Agritech CEO, Brian Bennett, remarked, "We are thrilled to have been selected by Strawberry Fields as their grow light supplier, and I am certain they will be equally excited about the benefits they will be receiving from our technology for years to come. The Boost is an ideal supplemental light for greenhouse production, as it has the output to effectively reach the canopy and its underlying LED technology makes it exceptionally energy efficient. One of the really great attributes of the Boost light is its full white color spectrum, which not only has demonstrated superior plant growth, but is far more pleasant to work under compared to "pink" lights."
Thrive Agritech will be shipping the Boost lights to Strawberry Fields early in the third quarter, with installation to follow shortly thereafter.
About Thrive Agritech
Thrive Agritech is a leading developer and manufacturer of innovative products for the controlled environment agriculture industry. The companys patent-pending technologies enable unique advantages for horticultural solid-state lighting and controls. Corporate headquarters are located in New York City. For more information, visit http://www.thriveagritech.com.
About Strawberry Fields
Strawberry Fields has served medical marijuana patients in Colorado since 2010. The company prides itself on its years of experience in producing a wide range of expertly crafted products for Colorados residents. Website: https://strawberryfieldscannabis.com/.
Featured Product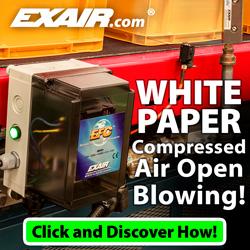 Compressed air is a limited resource that is generated in-house for the benefit of many operations within the manufacturing environment. Learn how to ensure all point of use applications are using your compressed air in the most effective and efficient way possible. Learn how much it costs to produce that compressed air and how Engineered Nozzles can help you use your air more effectively and efficiently.