European FMIS Provider to Offer Comprehensive Decision Support, Including Optimization of Harvest Operations with ClearAg Content
SANTA ANA, Calif.--(BUSINESS WIRE)--Iteris, Inc. (NASDAQ: ITI), the global leader in applied informatics for transportation and agriculture, and AgroVIR Ltd (AgroVIR) today announced the addition of Iteris ClearAg® smart content via weather, soil and harvest modeling application programming interfaces (APIs) to AgroVIRs farm management information system (FMIS).

The addition of ClearAg smart content to AgroVIRs FMIS provides users with access to relevant field-level weather and environmental insights, as well as decision support during harvest time for efficient operations and optimized yield.
"As one of the leading central European farm management software development companies, AgroVIR looks forward to providing clients with even more comprehensive FMIS solutions," said Miklos Maróti, chief executive officer of AgroVIR. "Iteris ClearAg weather, soil and harvest modeling technology enables our clients, in the central and eastern European region but also globally, to access the best information available for decision support. Derived field-specific data will enable our customers to make more relevant decisions for increased operational efficiency and reduced costs."
Serving over 250 clients, AgroVIRs innovative management information software supports over 360,000 hectares throughout Europe, including Hungary, Romania and Slovakia. The availability of Iteris ClearAg smart content equips global producers with data for decisions spanning the entire growing season, such as planting, in-field application and harvest timing. In particular, harvest modeling APIs support data-driven decisions around harvest and grain dry down activities.
"We are excited to provide global producers with access to Iteris ClearAg smart content through AgroVIRs farm management solution," said Jim Chambers, senior vice president and general manager, Agriculture and Weather Analytics at Iteris. "Iteris is committed to helping agribusinesses make the most of their data. Our ClearAg content provides field-specific analytics and insights for decision support whether agribusinesses are concerned with planting date or harvest timing."
About Iteris, Inc.
Iteris is the global leader in applied informatics for transportation and agriculture, turning big data into big breakthrough solutions. We collect, aggregate and analyze data on traffic, roads, weather, water, soil and crops to generate precise informatics that lead to safer transportation and smarter farming. Municipalities, government agencies, crop science companies, farmers and agronomists around the world use our solutions to make roads safer and travel more efficient, as well as farmlands more sustainable, healthy and productive. Visit www.iteris.com for more information and join the conversation on Twitter, LinkedIn and Facebook.
About AgroVIR Ltd.
AgroVIR was established in 2007 and is the leading farm management software development company in Hungary. Its independent, cloud-based SaaS platform (www.agrovir.eu) enables farmers to track important information (planting date, harvest date, records of chemicals, fertilizers used, information on tillage, accurate calculation of expenses, yields) at field level. In addition to providing world-class solutions to farmers, AgroVIR works in co-operation with the National Agricultural Research and Innovation Centre of Hungary in a landmark project where detailed information on 65,000 hectares of land is derived from its database and will be used by the institute for research purposes.
Featured Product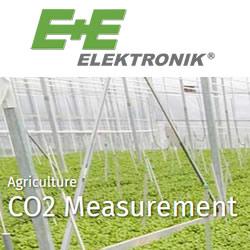 Lowering of energy costs, acceleration of growth and extension of the possible storekeeping duration can be optimised by the precise measurement of humidity, CO2-content and temperature. Optimum basic conditions for animals and plants ensure best agricultural products. As different applications demand various adopted solutions for optimization of agricultural processes, E+E Elektronik provides a broad portfolio of agricultural monitoring products