Farmers nominated by FS cooperatives recognized for implementing sustainable crop practices
BLOOMINGTON, Ill. (AgPR) May 7, 2018 - GROWMARK and local FS member cooperatives are recognizing farmers who implement sustainable nutrient management practices such as following the 4R principles for all nutrient applications, monitoring nitrogen levels through soil sampling, and implementing variable rate technology for phosphorous applications. Twenty-six farms are part of the inaugural Enduring Farm award. The award recognizes farmers who have adopted practices that optimize nutrient utilization, leading to positive long-term soil and water quality, while enhancing return on investment.

The winners and a full list of specific criteria can be found here: https://www.fssystem.com/Sustainability/Enduring-Farms.
"Farmers know that agronomic and conservation practices work hand-in-hand," said Mark Orr, GROWMARK vice president of Agronomy. "More than ever, they are assessing cropping practices and operational processes that will minimize impact on the environment while improving farm profitability."
Nominations for Enduring Farms recognition were submitted by each growers FS crop specialist based on specific sustainable practices implemented on their farms.
Nutrient management cropping practices were implemented during the 2017 growing season. All Enduring Farms will be provided N-WATCH™ services to measure results of a nutrient management trial conducted on their farm during the 2018 growing season.
"FS companies work with many farmers who excel at preserving and improving their land and natural resources for future generations," explained Ryan White, GROWMARK director of agronomy marketing. "Tools such as FS Advanced Information Services, MRTN, soil sampling, and sophisticated custom application services help farmers follow the principles of 4R nutrient stewardship to develop and execute phosphorus and nitrogen management plans."
Nominations for 2018 Enduring Farms will be submitted and reviewed after harvest.
About GROWMARK:
GROWMARK is an agricultural cooperative with annual sales of $7.3 billion (FY 2017 data) providing agronomy, energy, facility planning, and logistics products and services, as well as grain marketing and risk management services in more than 40 states and Ontario, Canada. GROWMARK owns the FS trademark, which is used by affiliated member cooperatives. More information is available at www.growmark.com.
About FS:
FS companies are full-service agriculture and energy suppliers dedicated to providing high-quality products and services for the purpose of improving customer profitability. Located throughout the Midwest and northeastern United States and in Ontario, Canada, they provide farm and non-farm customers with fuels, lubricants, propane, plant nutrients, crop protection, seed, structures, equipment, and grain marketing assistance. FS companies are part of the GROWMARK System, an agricultural cooperative serving more than 250,000 customers across North America. More information is available at www.fssystem.com.
Featured Product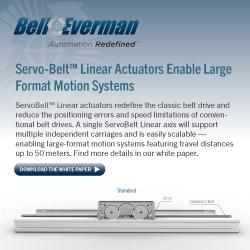 Manufacturing and packaging operations that still depend on manual material or parts handling operations can reap immediate benefits from a type of automation based on long-travel Cartesian robots with custom end-of-arm tooling (EOAT) and advanced sensing capabilities. These robots can support a variety of machines - performing otherwise manual tasks such as machine tending or transferring in-process parts - making long-travel Cartesian transfer robots a major upgrade to processes and operations. Download the White Paper from Bell-Everman