Illumitex Supports Dream Harvest Mission of Sustainable Farming with Efficient Lighting Solutions
Illumitex has worked in conjunction with Dream Harvest Farming Company since 2016 to provide LED grow lighting for their certified organic, sustainable, indoor farm located in Houston, TX. The Dream Harvest vertical farming operation uses less than 5% of the water of a normal farm, zero pesticides and 100% wind energy, making it an EPA Green Power Partner. Dream Harvest can also produce 70 times the produce of a normal farm, without taking up arable land.

With a tightly controlled environment, local sourcing, wind power, and efficient LED grow lighting from Illumitex, Dream Harvest is a carbon negative operation that promotes high-quality, locally grown food by the most sustainable means. Dream Harvest is also the first and only certified organic vertical farm in Texas.
"We give our crops exactly what they need, and none of what they don't," says Zain Shauk, Co-Founder and CEO of Dream Harvest Farming Company. "Part of our success has been the implementation of Illumitex LED lighting. The technology and insight provided by the Illumitex team has been extremely helpful in improving our performance and efficiency, and in generating larger and heartier leafy greens."
LED lighting provides an indoor operation, such as Dream Harvest, the ability to save significantly on their energy costs. In many cases, this can be close to a 50% savings while offering efficient, quality light to the plants.
"We understand the challenges of sustainable, locally sourced produce which will continue to rise as the urban population continues to increase," says Jeff Bisberg, CEO of Illumitex. "We know providing the most advance technologies in a cost-effective solution will enable indoor farms to both improve their plant quality and bottom-line."
About Illumitex, Inc:
Founded in 2005 in Austin, Texas, Illumitex works diligently to create industry-shifting achievements in horticultural lighting. Our team of horticulture scientist and engineers have radically transformed LED lighting that influence plant benefits including yield, taste, color and smell. Illumitex is enthusiastically committed to scientific research, cutting-edge design, and innovative engineering. We are dedicated to work with our customer to deliver world class horticulture solutions while pushing lighting into the digital age with automated tools and services. http://www.illumitex.com.
About Dream Harvest Farming Company
Dream Harvest Farming Company, located in the heart of Houston, uses vertical farming to grow fresh, local produce using the most efficient, earth-friendly methods to produce the highest quality leafy greens. http://www.dreamharvestfarms.com
Featured Product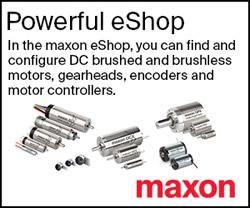 maxon launches the next generation of positioning controllers - the EPOS4. A high performance module with detachable pin headers and two different power ratings. With a connector board, the modules can be combined into a ready-to-install compact solution. Suitable for efficient and dynamic control of brushed and brushless DC motors with Hall sensors and encoders up to 750 W continuous power and 1500 W peak power. The modular concept also provides for a wide variety of expansion options with Ethernet-based interfaces, such as EtherCAT or absolute rotary encoders.