Real-time data from Sentera FieldAgent™ unlocks new insights and benefits within Climate FieldView™
MINNEAPOLIS, April 24, 2018 /PRNewswire/ -- Climate FieldView customers can now enjoy seamless integration of Sentera FieldAgent on-field sensor and analytics products with FieldView, and automatic synchronization of field boundary and other user information between platforms. The partnership between Sentera and The Climate Corporation will help growers and trusted advisors incorporate Sentera's accurate real-time on-field data into their decision process. Sentera's portfolio of integrated solutions - including sensors, drones, and FieldAgent software - will be offered through Climate FieldView dealers, making it easier than ever to make data-driven agronomic decisions that help maximize profits and increase yields.

Sentera Partners with The Climate Corporation: Real-time data from Sentera FieldAgent™ unlocks new insights and benefits within Climate FieldView™
Sentera Partners with The Climate Corporation: Real-time data from Sentera FieldAgent™ unlocks new insights and benefits within Climate FieldView™
Time is Money
"We are excited to partner with Climate Corporation to deliver our data products into FieldView," said Eric Taipale, CEO of Sentera. "The sooner an advisor or a grower can see how a crop is performing, the more flexibility they have to make decisions. More accurate on-field data delivered quickly helps to preserve yield, minimize costs, and contributes to overall profitability for the grower. The new data layers we're pushing to FieldView do exactly that."
Real-Time Data Made Easy
The FieldAgent and FieldView integration makes real-time data incredibly simple. Easily and autonomously scout a field with a drone and process the data using Sentera FieldAgent. When processing is complete, FieldAgent automatically synchronizes your data to FieldView, allowing you to quickly take meaningful action.
"FieldView Platform brings value to farmers, faster, by partnering with innovators across agriculture. This partnership will help our shared customers take advantage of Sentera's unique solutions in their day-to-day decision-making," said Vilas Rao, Vice President of Strategy at The Climate Corporation.
FieldAgent imagery products based on NDVI, Red Edge, and Sentera analytics and analysis tools are compatible with FieldView. Enhanced products, like elevation maps, population analysis, and weed mapping tools, allow users to further allocate inputs and practices to maximize economic benefit throughout the season.
Everything You Need
"Availability of a turnkey hardware and software product that bundles FieldView with everything needed to produce real-time data layers - a drone, sensors, and the software necessary to make it useful - is unique in North America. We are so excited to have this product available through The Climate Corporation's dealers. A user can visit a participating Climate FieldView dealer and leave with a complete crop-scouting solution that will let them start generating data right away," remarked Kris Poulson, Vice President of Agriculture at Sentera.
"Users can be confident that the entire end-to-end solution - from sensor, to drone, to FieldAgent integration with FieldView - will be easy and seamless. The partnership between Sentera and Climate Corporation will give incredible new insights for advisors and growers."
A Comprehensive Agronomic Solution
The Sentera FieldAgent platform includes mobile, web, cloud and desktop components. A hybrid in-field and cloud processing model efficiently manages real-time data production for your real-world conditions. In-field analytics include weed maps, population analysis, elevation maps, zone mapping, and more.
Learn more about FieldAgent Platform here.
About Sentera
Sentera is a leading supplier of integrated remote sensing, analytics, and IoT solutions to the agriculture industry. Sentera makes it easy for users to integrate in-field real-time data with many digital ag platforms. Sentera's equipment has flown tens of millions of acres all over the world, and the company manages terabytes of new data for its customers every year. For more information, visit www.sentera.com.
Featured Product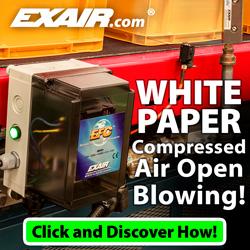 Compressed air is a limited resource that is generated in-house for the benefit of many operations within the manufacturing environment. Learn how to ensure all point of use applications are using your compressed air in the most effective and efficient way possible. Learn how much it costs to produce that compressed air and how Engineered Nozzles can help you use your air more effectively and efficiently.