Leading Fresh Produce Precooling Company to Use Zest Fresh to Promote Optimal Produce Freshness and Adherence to Processes
SAN JOSE, Calif.--(BUSINESS WIRE)--Zest Labs, an AgTech company modernizing the post-harvest fresh food supply chain, today announced that Western Precooling, a leading provider of precooling services and equipment to produce shippers for the western U.S., has selected the companys Zest Fresh solution to help optimize operational efficiency. With Zest Fresh, Western Precooling will fine tune the productivity of its field harvest receiving process at two locations and improve operational efficiency with the goal of delivering the best service to the customer and for the product. Zest Labs is a wholly-owned subsidiary of Ecoark Holdings, Inc. (OTCQX: ZEST).

Western Precooling selects @Zest_Fresh to optimize receiving process efficiency
Tweet this
Western Precooling helps growers and shippers deliver fresh produce from the field to their customers, operating over 100 sites throughout the primary growing regions in the western U.S. The company has developed and implemented best-practice processes for precooling and shipping of fresh produce, and currently provides precooling services to leading growers of strawberries, lettuce and other produce throughout California, Arizona and other western states. With Zest Fresh, Western Precooling aims to ensure that its receiving process is being followed and, if issues occur, its staff can proactively take action and update processes as needed. Zest Fresh uses IoT condition sensors, cloud-based analytics and machine learning to collect data from operations, evaluate it and identify areas where operations can be further enhanced.
"Zest Fresh provides us with the data we need to ensure our procedures are being followed, providing visibility into specific operational efficiencies, and helping us optimize our services," said Craig Miller of Western Precooling. "Having operational visibility for both local and remote operations provides our team with the tools and information they need for effective decision making."
To maximize freshness and shelf-life, it is vitally important that produce is chilled to the appropriate temperature, typically around 34 degrees Fahrenheit. When produce is harvested, it is at the field temperature, which can vary widely based on the location of the field, weather and time of day. Once produce is harvested and moved to a cooling facility, a variety of techniques are applied to "pre-cool" the produce and quickly reduce the temperature to the desired goal to reduce the respiration rate and aging of the produce, leading to longer shelf-life for retail distribution and the consumer. Using the Zest Fresh solution helps growers and commercial coolers to proactively respond to impacting variables, such as delays in getting the product from the field to the pack house, prioritizing for pre-cooler availability and pre-cooler optimization based on product conditions.
"Zest Labs is excited to be working with Western Precooling to provide them with data and strategies to create the most efficient operational processes," said Peter Mehring, CEO of Zest Labs. "Zest Fresh collects and analyzes data during their receiving process to provide insights for strategic decision making for process adherence and improvements.
About Zest Labs
Zest Labs, a subsidiary of Ecoark Holdings, Inc., to be renamed Zest Technologies™ (OTCQX: ZEST) is an AgTech company modernizing the post-harvest fresh food supply chain to improve food safety and reduce food waste. Our flagship solution, Zest Fresh, provides autonomous, field-to-shelf visibility for proactive decision making to improve delivered freshness and reduce shrink by 50% or more. Integrated blockchain technology provides true transparency for food safety, product freshness and traceability. Zest Fresh improves product margins and increases customer satisfaction and brand loyalty while promoting sustainability.
Featured Product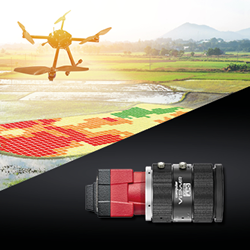 Allied Vision's compact and light weight Alvium SWIR (short wave infrared) cameras are the ideal choice to build cost-effective OEM systems used in embedded and machine vision applications. The cameras support a spectral range from 400 nm to 1700 nm at high quantum efficiencies. This allows to capture images in both the visible and SWIR spectra with a single camera and enables users to reduce overall system costs! Equipped with Sony's IMX990 and IMX991 SenSWIR InGaAs sensors, Alvium SWIR cameras deliver high image quality and frame rates. This makes them well suited for drones or handheld devices used in various industries such as, agriculture, mining, solar cell inspection or medical.