Trailblazing company unveils innovative new flagship products at the Terpene and Testing World Conference
LAS VEGAS and SAN JUAN, Puerto Rico, April 10, 2018 /PRNewswire/ -- iaso, (www.iasocorp.com), a science-based cannabis products and technology company, is changing the dynamics of the industry by introducing two significant and transformative new products to the medical marijuana community at the Terpene and Testing World Conference on April 10-11 in San Jose, California.

GrowBlox™ is a unique automated cultivation system that offers a multitude important advantages to traditional indoor and outdoor farming. The proprietary, patent pending system has been designed to create and maintain an optimum growing environment for consistently and reliably producing the best cannabis possible. With a compact footprint that occupies just 64 square feet, the sealed environment automatically controls and monitors temperature, light, humidity, air quality, water, nutrients and CO2.
GrowBlox™ is completely self-contained and plug & play. All a customer needs to provide is electricity, water, CO2, a WiFi connection, and the desired plants. With GrowBlox™, growers can now cultivate and harvest in any indoor location - without the need for large warehouses, expensive lighting, air conditioning or heating systems or building improvements. The GrowBlox™ is a green, energy efficient, totally automated growing chamber that meets the highest agriculture standards.
Each chamber allows for year-round growing of 4 plants, and can produce 5 harvests per year. GrowBlox™ will optimize your yield of superior medical-grade cannabis. Its aeroponic technology maximizes root absorption of nutrients and produces robust, lush plants with high cannabinoid profiles. Additionally, the chambers have been thoughtfully designed to fit together either back-to-back or side-to-side to minimize space requirements.
GrowBlox™ is ideal for start-up ventures as well as for established cultivators who are either expanding or retrofitting their operations. To get started using GrowBlox™, growers, investors and entrepreneurs can place an order for 1 to hundreds of units, and receive delivery in approximately 45 days. Growing can then start within days, making this the fastest and most cost-effective complete growing solution available anywhere in the world.
Within the first year of growing, GrowBlox™ can provide at least 5 full grows, compared to traditional indoor growing techniques that can take 9-10 months or more before an initial grow is even started.
The system is also very effective for conducting research at universities, chemical and pharmaceutical companies, and testing labs.
The company recognizes that a sophisticated turn-key cultivation system can be costly to acquire, so Iaso has developed a comprehensive new leasing program that makes it easy and affordable to obtain the chambers, and provides an ROI that significantly outperforms other forms of cultivation.
History
In 2013, GB Sciences developed the first GrowBlox™, and invested over $2 million in research, development and testing. In 2015, iaso's founder and CEO César Cordero-Krüger obtained exclusive global marketing, distribution, IP, and manufacturing rights to GrowBlox™, and continued to further refine and invest in the Chambers. GrowBlox™is now being presented to the worldwide market as the pre-eminent method for indoor cultivation.
Extraction
iaso will also be introducing its radically unique hydrodynamic extraction system at the conference.
PhytoX™ is the first hydrodynamic extraction system that can process whole, fresh, undried cannabis plants, which maximizes plant utilization, reduces processing costs and increases yields.
iaso's proprietary extraction system can process freshly-harvested plants into superior extracts. Unlike any other extraction method, PhytoX™ produces a highly bio-available product.
Due to its unique processing pathway, trichomes are preserved, and intrinsic heat automatically converts THC-A into high quality THC.
"These two new products represent an entirely new way of thinking about cannabis cultivation and cannabis extraction," said Tony Davis, President and COO of iaso. "We set out to develop breakthrough products and systems that would become the new standards of excellence in the cannabis industry," he added.
"We look forward to meeting with cultivators, processors and business owners, and showing how we can help them get into business rapidly, accelerate yields, increase ROI, reduce costs, and improve product quality."
For more information, visit the company's executive management team during conference at booth 211/312, or schedule an appointment by calling 310-994-9444.
About iaso
Founded in 2015, iaso provides a wide range of scientifically-based innovative and proprietary products, technologies, and services to the cannabis industry.
The company's leadership and science advisory teams consist of some of the world's leading experts in biochemistry, genetic research, sub and supercritical fluid extraction, chromatography, agtech, and plant-based nutraceutical research.
For more information, call: 310-994-9444 or visit: www.iasocorp.com
Featured Product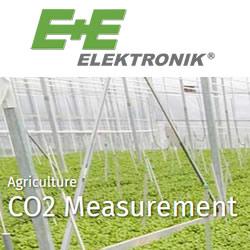 Lowering of energy costs, acceleration of growth and extension of the possible storekeeping duration can be optimised by the precise measurement of humidity, CO2-content and temperature. Optimum basic conditions for animals and plants ensure best agricultural products. As different applications demand various adopted solutions for optimization of agricultural processes, E+E Elektronik provides a broad portfolio of agricultural monitoring products