Former John Deere, Trimble Executive Brings Deep Expertise in Global Precision Farming, Irrigation and Crop Care Markets, Tasked to Lead ClearAg and ClearPath Weather Products
SANTA ANA, Calif. & DENVER--(BUSINESS WIRE)--Iteris, Inc. (NASDAQ: ITI), the global leader in applied informatics for transportation and agriculture, today announced the appointment of Pierre-André "P-A" Rebeyrat as vice president, product management for the companys Agriculture and Weather Analytics (AWA) segment. He will be responsible for leading the product management teams for the ClearAg® and ClearPath® Weather solutions. Mr. Rebeyrat will report into Jim Chambers, senior vice president and general manager, AWA.

"I look forward to working alongside P-A to demonstrate the power of applying big data and environmental science to make farmlands more sustainable and productive," said Mr. Chambers. "His considerable leadership in corporate strategy, marketing and business development, and deep experience across all aspects of global agriculture will provide us with the right perspective to get even closer to achieving this mission."
Mr. Rebeyrat brings over 15 years of experience in global agriculture. Most recently, he served as strategic marketing director for Trimble, regarded as a pioneer in positioning technology, where he was responsible for the precision agriculture and irrigation portfolios globally. Prior to joining Trimble, Mr. Rebeyrat held key roles in marketing, product management, strategic planning and business development at John Deere, which included leading strategic planning and partnering for the Global Crop Care platform, and serving as vice president of global marketing and product management for John Deere Water.
"I am thrilled to be joining the award-winning and forward-thinking team at Iteris as we continue to expand our focus in precision farming, irrigation and crop care, among other global agriculture areas," said Mr. Rebeyrat. "Iteris is a well-respected organization in the agricultural technology community and I am looking forward to helping the team get to the next level."
Mr. Rebeyrat earned a Bachelor of Business Administration degree in marketing from Temple University. He also holds a Master of Business Administration degree in marketing, finance and strategy from the Kellogg School of Management, as well as a Master of Engineering Management degree from the McCormick School of Engineering, both at Northwestern University.
About Iteris, Inc.
Iteris is the global leader in applied informatics for transportation and agriculture, turning big data into big breakthrough solutions. We collect, aggregate and analyze data on traffic, roads, weather, water, soil and crops to generate precise informatics that lead to safer transportation and smarter farming. Municipalities, government agencies, crop science companies, farmers and agronomists around the world use our solutions to make roads safer and travel more efficient, as well as farmlands more sustainable, healthy and productive. Visit www.iteris.com for more information and join the conversation on Twitter, LinkedIn and Facebook.
Featured Product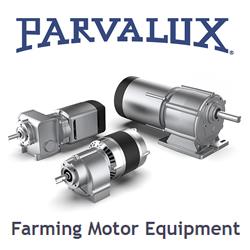 British-made farming motors at Parvalux are available off-the-shelf, customizable or as a fully customized 'from scratch' solution, enabling you to tailor a geared motor to your precise requirements. Whether you require a specific shaft length or material, dynamic braking or another one of our customization options, we'll help you make sure your customers' farms run like clockwork.