AgShift, a California-based food technology company that makes food inspection autonomous and digitized with deep-learning, today announced it has added RJO Produce Marketing as a client. AgShift will provide its mobile-based autonomous food inspection solution to improve operational efficiencies for RJO Produce Marketing.
RJO, an industry leader in measuring fresh produce quality, is blending digital innovation with human intelligence to bring best quality produce to its retail customers. "At RJO, we already have one of the industrys most innovative and highly acclaimed RJO Birddog inspection program which enables our inspectors to track product quality in real-time via our proprietary Bird Dog Quality Scoring system (BDQ). What excites us about AgShift technology is the aspect of making inspections autonomous. This gives us the unbiased judgement on quality attributes - which is consistent, objective and data-driven. We think this can truly transform how quality is measured across the supply chain. We are looking forward to watching AgShift program unfold not only in fresh produce category but in other categories as well such as Edible nuts, meat and seafood." Said Rob ORourke, Co-founder, RJO Produce Marketing.

"At AgShift, we are re-imagining food inspection at various layers - starting from digitizing product specifications, using a mobile-first approach for operational efficiencies to leveraging Deep Learning to make inspections autonomous. Our goal is to standardize food inspection across the entire supply chain and reduce food wastage resulting from inconsistencies in food quality interpretation."," said Miku Jha, Founder & CEO, AgShift. "Most food organizations now know that they can improve operational efficiencies with digitization. Our message - that objective and consistent judgement of food quality - brings better transparency, significant reduction in claim management and overall can reduce food waste with pre-emptive & objective decision making - is resonating with organizations in food supply chain, not just in US but globally. "
AgShift solution blends Deep Learning with Computer Vision to autonomously inspect produce and other commodities for defects. It does quality assessments and makes judgements as per USDA specifications or organizations own specifications. The patented deep learning models analyze the defects in the sample images and predict the overall quality of the sample. The platform relies on curated, extensive real-world image data sets to teach our software to analyze defects with high consistency and accuracy - every time. The solution augments manual inspections - providing objective, consistent and standardized quality interpretation across the supply chain - every single time.
About RJO Produce Marketing
Located at the Heart of Central California, in the nation's largest and most fertile agricultural growing region, RJO is leading the innovation in measuring produce quality. RJO offers a wide variety of services to help our clients work smart and maximize their profitability. Our services include comprehensive on-ground representation that includes quality assurance inspections, in depth market analysis, and category management services for key perishable commodities.
RJO is especially proud to have earned both the Red Book "Business Character Award" and the Blue Book "Trading Member" status. These prestigious awards represent our ongoing commitment to excellence in all we do. For more information on RJO visit http://www.rjoproduce.com
About AgShift
AgShift Inc., is worlds most advanced autonomous food inspection system. AgShifts software blends patented Deep Learning models with Computer Vision to make food inspections autonomous, consistent and standardized at scale. AgShift is empowering the worlds largest agriculture and food organizations to reduce global food loss and waste. AgShift Inc. is based out of Silicon Valley, California.
For more information on AgShift visit http://www.agshift.com
Featured Product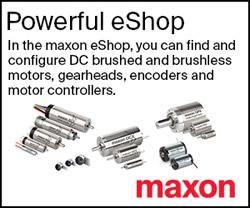 maxon launches the next generation of positioning controllers - the EPOS4. A high performance module with detachable pin headers and two different power ratings. With a connector board, the modules can be combined into a ready-to-install compact solution. Suitable for efficient and dynamic control of brushed and brushless DC motors with Hall sensors and encoders up to 750 W continuous power and 1500 W peak power. The modular concept also provides for a wide variety of expansion options with Ethernet-based interfaces, such as EtherCAT or absolute rotary encoders.