As Corporate Use of Drones for Aerial Data Collection Increases, Using Professionals to Fly the Drones Provides Better Compliance, Safety and Efficiencies
Seattle, WA—March 22, 2018—DroneHive, the leading provider of expert services for aerial data collection, sees firsthand daily how corporations are integrating aerial data into their business strategy. The company is also acutely aware of the many ways corporations can get into trouble when they try to navigate the complexities of drones on their own. To help guide corporations in this new area, DroneHive today unveiled a document that lists the "Top 10 Reasons for Corporations to Use a Drone Services Company for Aerial Data Collection." The guidance document covers everything from indemnification and safety, to various cost savings and the ability to use diverse drones based on the specific task at hand. Drone services companies also help to ensure a corporation is collecting accurate and unbiased aerial data, enabling the corporation to make better and more efficient operational decisions.

DroneHive has a nationwide network of 500 carefully selected professional drone consultants and operators to help corporations integrate aerial data collection into their business models. By using DroneHive to develop and manage aerial data collection, corporations dont need to waste time trying to understand complex drone rules, regulations and safety. The company has a perfect safety record after thousands of flights and can deploy drone operators within days.
Aerial data collection is especially useful in construction, energy, security, insurance, civil engineering, agriculture, real estate and property management - all industries that regularly do inspection, surveillance or other aerial data collection. DroneHive has been working with a major global technology company, a national industrial equipment firm, the worlds second largest solar company and even a well-known brewery.
"Drones are here to stay and corporations are rapidly increasing the number of flights for aerial data collection in 2018," said Paul Huish, CEO of DroneHive. "The problem is that corporations are often like a fish out of water in this new realm and they put their companies at great risk. DroneHive takes away this risk, enables these corporations to breathe more easily and make better and more strategic business decisions than ever before."
More on the Top Ten Guidance Document
The guidance document that DroneHive wrote covers ten of the major benefits of using professionals vs. cobbling together a team in-house. The list includes:
1. Protection from potential lawsuits and litigation
2. Better safety risk management
3. Navigating complex and costly aviation insurance
4. Expert and vetted operators
5. Cost savings
6. Immediate deployment
7. The best drone for the task
8. Operators available nationwide
9. Greater flexibility
10. Objective data collection
Each of the reasons are addressed in detail in the document.
Engaging with DroneHive
It is easy to work with DroneHive. They handle all of the details, from initial consultation on a corporations specific needs to implementation - using drones provided by DroneHive or the corporation itself. Because DroneHive has such a large nationwide network of experts, they can rapidly deploy local operators, usually within a few days.
"Working with DroneHive has been an all-around great experience. Their team is knowledgeable, professional, efficient, and amenable to the dynamics of a construction project," said Liam Ranney, project manager at Construction and Development Solutions Inc., which is working with DroneHive on aerial data collection for a new 110,000 square-foot brewery/hospitality facility in Windsor, CA. "DroneHives dedication to safety, compliance, and efficiencies has always been first class."
"DroneHive has really helped Truebeck streamline our drone program," said Justin Porter, senior VDC (virtual design and construction) manager at Truebeck. "Their pilots are reliable, professional and communicate well with our project teams. Hiring DroneHive allows our project teams to have good deliverables without having to find time to fly and process the data."
About DroneHive
DroneHive was founded in January of 2016 to address the corporate need for a drone services partner. The company has more than 500 professional drone operators nationwide, a perfect safety record after thousands of flights and competitive rates. Services include inspection, surveillance and other aerial data collection. Based in the San Francisco Bay Area, DroneHive helps corporations collect high quality aerial data across the country. For more information, please visit: www.dronehiveinc.com
Featured Product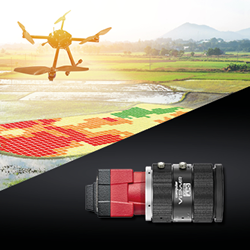 Allied Vision's compact and light weight Alvium SWIR (short wave infrared) cameras are the ideal choice to build cost-effective OEM systems used in embedded and machine vision applications. The cameras support a spectral range from 400 nm to 1700 nm at high quantum efficiencies. This allows to capture images in both the visible and SWIR spectra with a single camera and enables users to reduce overall system costs! Equipped with Sony's IMX990 and IMX991 SenSWIR InGaAs sensors, Alvium SWIR cameras deliver high image quality and frame rates. This makes them well suited for drones or handheld devices used in various industries such as, agriculture, mining, solar cell inspection or medical.