Project Aims to Demonstrate the Power of Organic Oats to Build Soil and Capture Carbon
ANAHEIM, Calif., March 8, 2018 /PRNewswire/ -- Cascadian Farm, a pioneer in the organic food movement, and parent company General Mills, announced a five-year $125,000 contribution to Grain Millers to support soil health research on oat farms in the Upper Midwest. Research findings and best practices will be shared at field day events to help advance environmental and economical outcomes for farmers.

(PRNewsfoto/Cascadian Farm)
(PRNewsfoto/Cascadian Farm)...
"We continue to make investments to advance the organic movement and strengthen our supply chain," said Carla Vernón, president of the Annie's operating unit. "We hope this project allows us to generate data to show that implementing regenerative agriculture practices results in improved outcomes -- including economic resiliency and long-term benefits for farmers."
As part of this program, Grain Millers will identify farmers who have successfully built soil, as well as farmers who are just beginning that journey. The aim is to learn from farmers who have successfully built soil, understand their motivations and management practices as well as understand what prevents other farmers from making the same commitment. Ultimately, the intent is to cultivate best practices with economic and social impacts to share amongst all farmers in the supply chain and partner to accelerate their path to soil health.
"We've been a strong advocate within the organic movement for decades," said Steve Eilertson, President of Grain Millers. "We see oats as a critical part of returning the health to our nation's soils and we're thrilled to support this program."
The pilot program includes organic oat farms in the Upper Midwest. The research team will work with farmers to help demonstrate the impact of regenerative agricultural systems in organic oats farming including cover crops, no-till, and crop rotation practices.
General Mills recently built a regenerative agriculture scorecard to support projects of this type, and is encouraging brands to build pilots that show the potential of regenerative agriculture to contribute to a resilient planet.
"Together with Grain Millers, we plan to pilot a practical approach to implementing our regenerative agriculture framework, the impact of implementing the framework and how to reasonably scale it," said Jerry Lynch, Chief Sustainability Officer at General Mills. "Our goal is to gain a better understanding of the economic and environmental impacts of healthy soil and identify hurdles that a proactive plan can address for farmers."
A Pioneer in Organic
Cascadian Farm joined General Mills in 2000 as the company's first organic brand. Cascadian Farm has a history of leading the company's corporate sustainability efforts and now is going beyond organic to further the brand's commitment to soil health by supporting farming practices that have a positive impact. Healthy soil is crucial not only for food production but for clean and abundant water supplies and a stable climate.
General Mills is showcasing the company's natural and organic brands, including Cascadian Farm, at Natural Products Expo West March 9-11 in Booth 527.
A Leader in Soil Health Advancement
Soil health is a growing focus for General Mills sustainability efforts. General Mills has contributed more than $3 million to partners advancing soil health on U.S. agricultural lands, such as The Nature Conservancy, the Soil Health Institute, the Soil Health Partnership and the National Wheat Foundation. This includes research and education outreach on soil health practices that will benefit 125,000 farmers in the Great Plain States.
For more information on Cascadian Farm and General Mills ambitious commitment to organic acreage and soil health, visit the company's 2017 Global Responsibility Report and Taste of General Mills blog.
About General Mills
General Mills is a leading global food company that serves the world by making food people love. Its brands include Cheerios, Annie's, Yoplait, Nature Valley, Cascadian Farm, Epic, Fiber One, Häagen-Dazs, Betty Crocker, Pillsbury, Old El Paso, Wanchai Ferry, Yoki and more. Headquartered in Minneapolis, Minnesota, USA, General Mills generated fiscal 2017 consolidated net sales of US $15.6 billion, as well as another US $1.0 billion from its proportionate share of joint-venture net sales.
About Grain Millers
Grain Millers has been providing healthy, high-quality food ingredients since its inception more than 30 years ago. The company is committed to working with partners across the food chain on programs that encourage responsible farming and consumption habits. Visit www.grainmillers.com to learn more.
Featured Product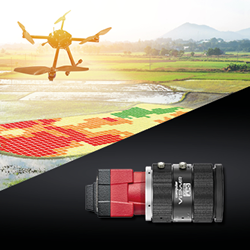 Allied Vision's compact and light weight Alvium SWIR (short wave infrared) cameras are the ideal choice to build cost-effective OEM systems used in embedded and machine vision applications. The cameras support a spectral range from 400 nm to 1700 nm at high quantum efficiencies. This allows to capture images in both the visible and SWIR spectra with a single camera and enables users to reduce overall system costs! Equipped with Sony's IMX990 and IMX991 SenSWIR InGaAs sensors, Alvium SWIR cameras deliver high image quality and frame rates. This makes them well suited for drones or handheld devices used in various industries such as, agriculture, mining, solar cell inspection or medical.